During the American Century Celebrity Golf Championship – often referred to as the Super Bowl of celebrity events – many players took the opportunity to show off their locker-room celebratory skills in the sixth annual "Korbel Celebrity Spray-Off," held July 19, with this year's winner, football player Jerome Bettis, receiving $5,000 from the Korbel Toast Life Foundation for the charity of his choice.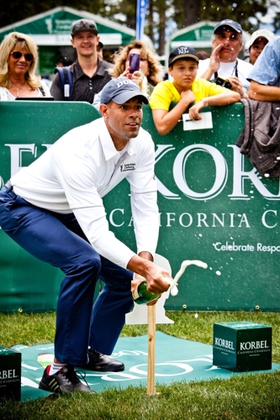 Participating players included winner NFL Pro Running Back Jerome Bettis with a 110 ft. blast, runner-up Miami Heat Forward and NBA Champion, Shane Battier, with a 100 ft. launch, third place finisher Fresh Prince of Bel-Air Actor Alfonso Ribeiro with a mark of 99 ft. barely edging out fourth place finisher Alex Smith, San Francisco 49ers Quarterback, among 39 other celebrity participants. The competition was based on cork distance (but style and champagne spray added to the excitement for the fans).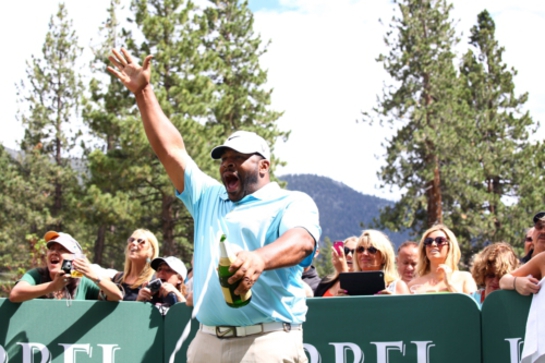 Among crowd favorites were AJ Hawk who sprayed the crowd, Jerry Rice who did his touchdown dance moves before he sprayed, Mark Rypien who shook the Champagne bottle for longer than anyone, and John Elway who was determined not to let the rookie athletes show him up.
Dallas Cowboys Quarterback Tony Romo, Former NHL All-Star Jeremy Roenick, and Former NFL All-Pro Quarterback Joe Theismann won over the crowd with their exciting champagne sprays and long distance corks.
Hockey players Mike Eruzione, Mike Modano, and Martin Brodeur seemed to have an advantage as they showed they had some serious champagne-spraying know-how as their sprays had the most flair and style (likely learned from years of practice winning championships).
NBA great Shane Battier popped a slam dunk while baseball's tops, Greg Maddux and Bret Saberhagan hit home runs as far as champagne-spraying goes.
"We are thrilled to again be a part of such a great event with the American Century Golf Championship," said Gary Heck, owner and president of Korbel Champagne Cellars. "Korbel is the perfect celebratory beverage, and it was great to have some fun with it during the sixth annual 'Spray-Off' event."
Source: PR Newswire