Hall of Famer George Brett, known for his mean bat during a 21-year career with the Kansas City Royals, is now a big hit with animal lovers across North America. That's because Brett—one of only four players in Major League Baseball history to accumulate 3,000 hits, 300 home runs, and a career .300 batting average—has just shot two brand-new ads for PETA about the importance of not locking dogs inside cars during hot or even just warm weather.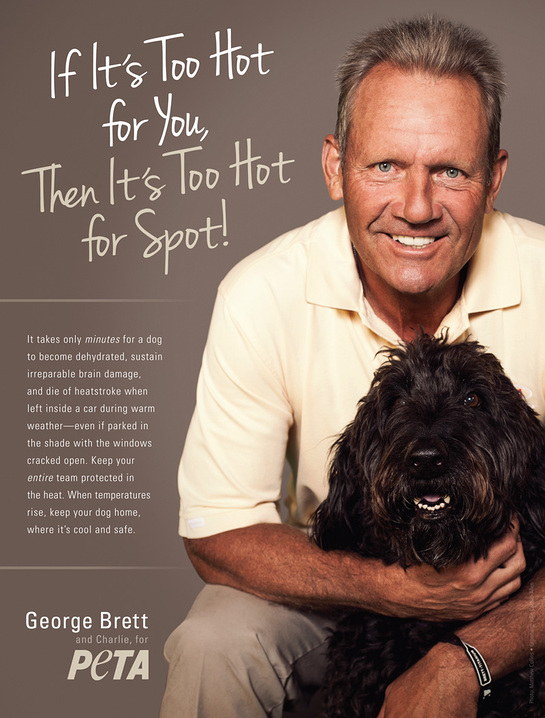 In the ad shot for TV and radio, Brett appears with his dog Charlie and says, "[P]lease do not leave your dog in the car. It takes only minutes for a dog to become dehydrated, sustain irreparable brain damage, and die of heatstroke …. Cover your bases. If you know that you'll be out and about, leave your dog at home indoors, where it's safe." Brett also appears with his canine pal in a print ad that reads, "If It's Too Hot for You, Then It's Too Hot for Spot."
In an exclusive PETA interview taped in Kansas City, Brett addressed the importance of having dogs microchipped in order to keep them safe and emphasized the importance of treating them like members of the family. "Dogs need someone to be around and someone to talk to …. [W]e have sitters come over when we travel sometimes, and … if the kids are home … it's mandatory that they walk the dogs every day—get them some exercise."
Brett joins a growing list of athletes — including Glenn Dorsey, Chase Utley, Tony Gonzalez, Chad Ochocinco, Amaré Stoudemire, Lance Briggs, Aaron Curry, and Ron Artest — who have teamed up with PETA to help animals.