American Idol winner Kris Allen and 97 talented youth from around the US performed their hearts out during the Berklee City Music Scholarship Concert earlier this week.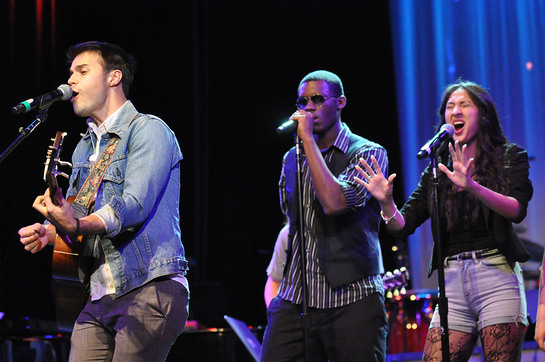 An annual event that showcases the accomplishments of Berklee City Music youth in the final week of Berklee College of Music's Five-Week Summer Performance Program and awards students with 2012 City Music College Scholarships to attend Berklee College of Music.
"My passion is music education and my work with Music Empowers Foundation introduced me to this amazing network connected by Berklee City Music. These kids are beyond talented, but it takes organizations like Berklee City Music to help them turn talent into a tool for success in life," Kris Allen said.
Berklee City Music is a nonprofit program that harnesses the energy of contemporary music to provide music education to 4th through 12th graders in underserved communities at 38 Network sites, educating more than 10,000 students across the country, and bringing as many as 100 of them to Boston each summer. Each year, Berklee City Music awards scholarships to attend Berklee's Five-Week Summer Performance Program as well as four-year scholarships to attend Berklee College of Music.
2012 City Music College Scholarship: Full four-year scholarships for study at Berklee College of Music, beginning fall 2012, were awarded to City Music Summer Scholarship recipients who have been accepted by the college and completed the Berklee College of Music Five-Week Summer Performance Program.
With the ongoing struggle to provide access to music education in the United States, Berklee City Music Network is providing a pathway to higher education by engaging passionate, talented youth in underserved communities in a contemporary music education program.
"Every year, for the last 20 years, I am blown away by the power of music. When these kids develop their talents and skills in music, you can see their confidence grow too and with that, the potential for success is just limitless," J. Curtis Warner, Jr., Executive Director, Berklee City Music, said.
Source: PR Newswire