The Farrah Fawcett Foundation, whose mission is to provide funding for alternative methods of cancer research, clinical trials, prevention, and awareness with an emphasis on anal and pediatric cancers, has partnered with Mead Products, LLC to create a one-of-a-kind 16 month calendar featuring acting legend Farrah Fawcett.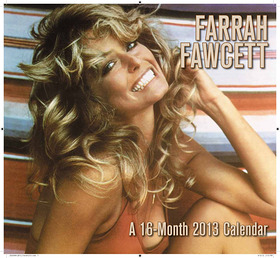 Currently, the calendar is available on Amazon for $14.99.
The calendar is a collection of several of Farrah's most beautiful photos from the private collection of legendary photographer Bruce McBroom. It includes rarely seen photos from Farrah's early career. In the 1960's Mr. McBroom photographed The Beatles, Jimi Hendrix, Janis Joplin and The Doors. His most notable work is the famous shot of Farrah Fawcett in a red swimsuit – the biggest selling poster of all time.
A portion of the proceeds from this one-of-a-kind calendar go to continuing Farrah's dream of helping fight the battle against cancer and those who are suffering from it through the work of the Farrah Fawcett Foundation.
The calendar is being distributed by MeadWestvaco Corporation.
Source: PR Newswire