WWE Diva and USO representative Eve Torres left no doubt who was the king of the ring among the eight-competitor field by winning the NBC reality show competition "Stars Earn Stripes."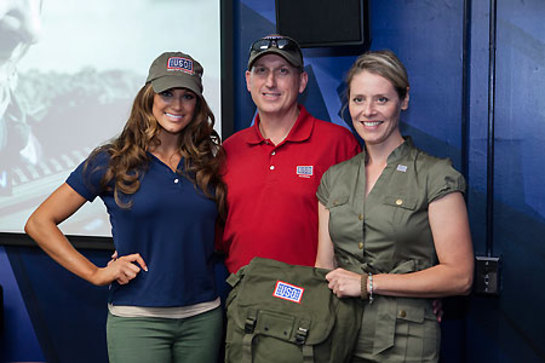 Torres, who selected the USO as her charity of choice, earned $150,000 for the USO's Operation Enduring Care by defeating Olympic skier Picabo Street and actor Dean Cain in the final challenge and the renowned wrestler could not be more proud of her victory.
"'Stars Earn Stripes' was one of the best experiences of my life," Torres told WWE.com. "I went in assuming I was the underdog because I didn't have the military experience. The USO is a really important organization and I know that this win is really important to the troops."
Operation Enduring Care is a part of the wider USO Warrior and Family Care and raises funds to help the wounded, ill and injured troops and their families and caregivers while constructing two warrior and family centers — one at Walter Reed National Military Medical Center in Bethesda, Md., one in Fort Belvoir, Va.
Torres revealed earlier how important supporting the troops and their families was to her and the WWE, a strong supporter of our nation's military and she credited her training and mental toughness with giving her the edge needed to prevail.
"I think being a WWE Diva is a tough job; there's lots we do that's not seen on television, constantly working and trying to better ourselves," Torres told WWE.com. "And I really think that hard work and dedication from being a WWE Diva is probably what set me apart from the other competitors."
Source: USO.org