Music is believed to help heal the sick and inspire the soul. In fact, the healing power of music is swiftly gaining acceptance in modern health care with music therapy commonly used to complement many rehabilitation therapies. Inspired by the emotional power of music, Mount Sinai Hospital Chicago, a member of Sinai Health System, is launching a new philanthropic initiative – Sounds of Sinai – which is dedicated to improving care for patients.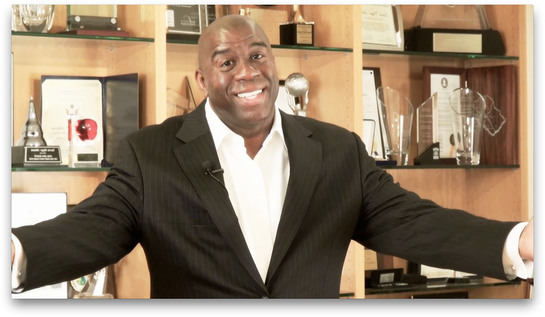 The goal of the Sounds of Sinai philanthropic effort is to raise funds for the hospital through the expression of music. Musical artists, celebrities, kids, parents, bands, church and / or school choirs and other members of the Chicago community can create and upload their personal musical performance to www.SoundsofSinai.org, donate to the cause and commission friends and family members to support their music, and the hospital, by pledging donation dollars.
Magic Johnson, a strong supporter of the urban health community in Chicago and a music lover himself, was the first to "sing" for Sinai with his own musical rendition of The Temptation's long-time hit, "My Girl." Visitors can hear and see his video submission here and hit the "support this performance" button to have his music help the Sinai hospitals.
"Sinai Health System is committed to delivering the best urban health care possible," said Alan Channing, President and CEO of Sinai Health System Chicago. "The Sounds of Sinai program is a unique and inspiring way for us to raise money for the hospital — anything from new hospital beds to life saving medical equipment — and better serve our patients by celebrating the emotional power of music. We are extremely grateful for the participation we have already received and encourage everyone in the Chicago community and beyond to 'support our supporters' by pledging donations to musical creations and performances on www.SoundsOfSinai.org."
Ways to Participate
Members of the community can participate in Sounds of Sinai in the following ways:
1. Browse and listen to the musical performances on www.SoundsofSinai.org and support your favorite video by pledging donation dollars to an individual hospital of Sinai Health system overall. You can even dedicate your pledge to a specific patient, caregiver or provider who has made an impact on your life.
2. Create, upload and donate a musical creation to www.SoundsofSinai.org and encourage friends and family and all listeners to support it. This can be an original song, a cover tune sung Karaoke style, singing or playing music with a band, choir, in a duet or even singing about Sinai. Any and all musical creations are encouraged*, short or long, professional videos or videos shot with a FlipCam, a laptop computer or Smart Phone.
Musical performances will be accepted at www.SoundsofSinai.org. The online community will also track visitors' "favorite" and "highest-pledged" videos, list top donors and recommend similar videos based on visitors' previous pledges. For more information, please visit www.SoundsofSinai.org or visit them on Facebook and Twitter.
Source: PR Newswire