On Friday, Oct. 26 country music group Little Big Town visited Feeding America Tampa Bay to volunteer in food fulfillment activities as part of their partnership with ConAgra Foods' Child Hunger Ends Here campaign.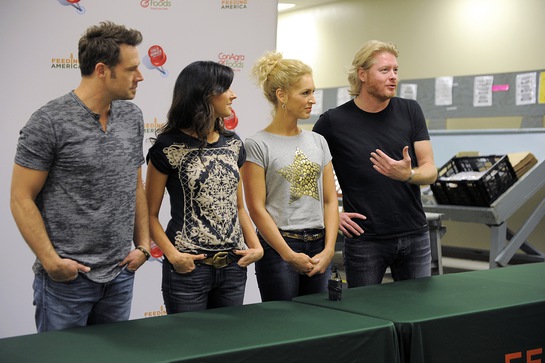 The band was in Tampa as part of their live tour, and visited Feeding America Tampa Bay to bring attention to the fact that in the 10 counties served by the food bank, more than 224,000 children may not know where they'll get their next meal. In fact, Florida ranks among the top five states with the highest rates of child food insecurity.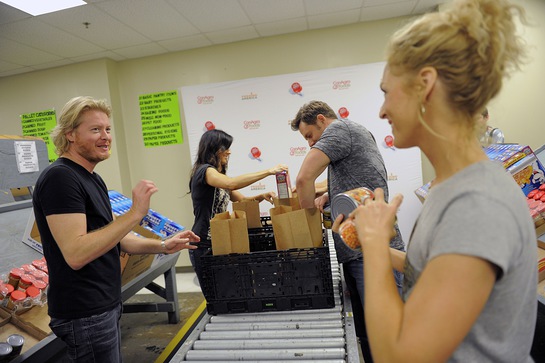 ConAgra Foods' Child Hunger Ends Here campaign is part of a larger commitment by ConAgra Foods to Feeding America. As Feeding America's Leadership Partner in the fight to end child hunger, the company and the ConAgra Foods Foundation, have collectively donated 302 million pounds of food and invested more than $37 million dollars to combat child hunger since 1993.
Little Big Town was inspired by the stories they have heard and how communities are rallying around this cause. The issue hits close to home for the band, as each member have children of their own and their own personal connections to the issue.
All four are dedicated to getting the facts out there and raising awareness for this important cause. The band recently released a video of the Child Hunger Ends Here anthem "Here's Hope," exclusively for ConAgra Foods.
Together, Little Big Town and ConAgra Foods aim to drive awareness of the fact that nearly 17 million children aren't sure where their next meal is coming from.
Feeding America of Tampa Bay, a member of the national Feeding America food bank network, services 10 counties in west central Florida. Since Feeding America Tampa Bay began in 1982, we have processed and distributed over 150 million pounds of safe and nutritious surplus food to those who need it most. Through our combined efforts with over 350 partner charities and churches, Feeding America of Tampa Bay currently distributes enough food in a single week to provide over 100,000 meals.