Like father, like son. Two years after actor Will Ferrell finger-painted a snowman for 7-Eleven, Inc.'s holiday coffee cup, his son 5-year-old Mattias has taken over the cup-design duties, with a little help from dad.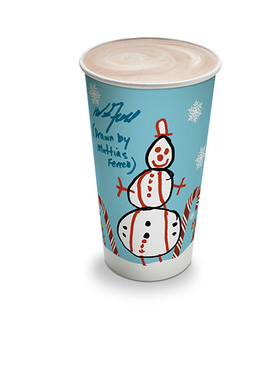 Like his father, Mattias also drew a snowman, this time flanked by candy canes on a light blue cup that sports his father's autograph and the Cancer For College charity's logo.
The snowman cups with the hand-drawn design are available now at participating 7-Eleven stores through Dec. 31, 2012, or while supplies last.
Also in time for the holidays and complementary to the Ferrell coffee cup, is 7-Eleven's new seasonal beverage – Peppermint Mocha Cappuccino. The wintery flavors of cool peppermint and rich chocolate are favorites and test well among consumers.
The Ferrell family hopes to raise awareness for Cancer for College, a nonprofit organization founded by cancer survivor and Ferrell's friend and fraternity brother Craig Pollard. The California-based charity offers support and inspiration to young cancer survivors through academic college scholarships.
"If you compare the snowman Mattias drew for 7-Eleven's holiday cup this year with the one I drew by myself in 2010, you can tell right away where he gets his artistic talent," Ferrell said. "Both cups have snowmen and both give our family an opportunity to support Cancer for College, a great charity that helps cancer survivors get on with their lives — lives that may have been put on hold because of illness, treatment and resulting financial hardship."
To celebrate the launch of his son's snowman cup, Ferrell appeared in The Grove in Los Angeles Tuesday to sign autographs and meet with fans. Cancer for College has been inspiring and empowering survivors since its inception in 1993 through college scholarships. The nonprofit organization has provided over $1.75 million in scholarships to more than 1,000 cancer survivors and amputees.
"Two years ago, 7-Eleven helped Will spread the world about a little-known, but worthwhile organization that is important to him in a very personal way," said Laura Gordon, 7-Eleven vice president of brand innovation. "Cancer for College has helped families who have been left with few financial resources for education after paying extraordinary medical expenses to save their child. 7-Eleven is supporting this organization by making a donation and raising awareness about such a commendable cause."
7-Eleven has pledged a $360,000 donation to Cancer for College.
The personally designed cup can be filled with any 7-Eleven hot beverage and customized with an assortment of creams, syrups and spices at no extra charge.
More information about 7-Eleven and Cancer for College can be found at 7-eleven.com, www.facebook.com/7Eleven, www.twitter.com/7Eleven and www.cancerforcollege.org, www.facebook.com/cancerforcollege.
Source: PR Newswire