Myleene Klass, Mark Wright, Erin O'Connor, Lisa Snowdon, Alison Steadman, Ashley Jensen, Lauren Laverne, Jon Snow, Ben Forster, Vicky McClure and VV Brown have all posed for photographs in the festive woollies they will be wearing on Christmas Jumper Day on December 14, to mark their support for the Save the Children campaign.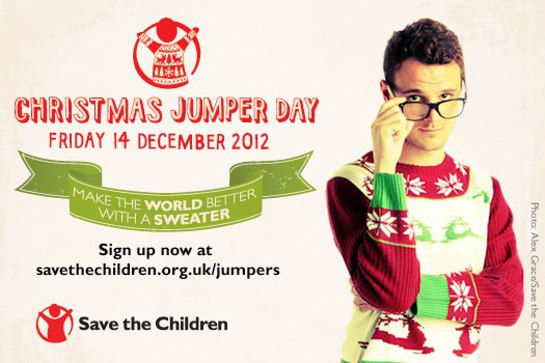 People across the UK are being invited to take part in the age-old tradition of wearing a kitsch Christmas jumper on the day in exchange for a £1 donation, helping to 'make the world better with a sweater.'
All money raised will help save the lives of the world's most vulnerable children. In the world's poorest countries, more than 7 million children die every year from easily preventable causes like diarrhoea and malnutrition. Simple solutions, like vaccines and mosquito nets save lives – so by getting friends and colleagues to take part in Save the Children's Christmas Jumper day on 14 December, you can help make a real difference.
TV personality Myleene Klass said: "Save the Children's Christmas Jumper Day is the perfect excuse to wear your festive woolly with pride, whilst helping to save children's lives. I've visited Save the Children's work in Bangladesh so know just how far your donated £1 can go. I'll be buying crazy knits for my friends and family to ensure they are all taking part on December 14th."
Model Erin O'Connor: "Save the Children's Christmas Jumper Day is a fantastic idea. Who doesn't have a classic Christmas woolly lurking at the back of their wardrobe, desperate to be loved again? Find it, wear it, and help save children's lives. It's wonderfully simple."
Journalist Jon Snow: "It's not always easy to demonstrate commitment to the festive spirit, but who can argue with a reindeer sweater? The money from Christmas Jumper Day goes towards a great cause – saving children's lives – there's no excuse not to dig out your funniest winter knit and wear it with pride."
Radio Presenter Lisa Snowdon: "Christmas jumpers are bang on trend this year – and Save the Children's Christmas Jumper Day on 14th December gives you the perfect opportunity to wear yours with pride, all for a really important cause: saving children's lives."
Actress Alison Steadman: "Christmas Jumper Day on 14th December is the perfect opportunity to have a giggle whilst helping raise money and awareness for Save the Children. Taking part is so easy, you can get the whole family involved in baking gingerbread in jumpers, donning jazzy Christmas sweaters or even knitting!"
TV presenter Mark Wright: "On December 14th I'll be wearing my favourite Christmas sweater in aid of Save the Children's Christmas Jumper Day."
Actor Ben Forster: "I love kitsch Christmas traditions, and wearing a crazy knit covered in reindeer has got to be one of the best. I'll be wearing mine on Save The Children's Christmas Jumper Day – you can do so too all in the name of a great cause!"
For more information, click here.