Big Brothers Big Sisters' celebrity ambassador Nancy Lieberman applauds the national mentoring organization's choice to make Jamie Foxx national spokesperson, saying it will energize other actors and professional athletes to get involved.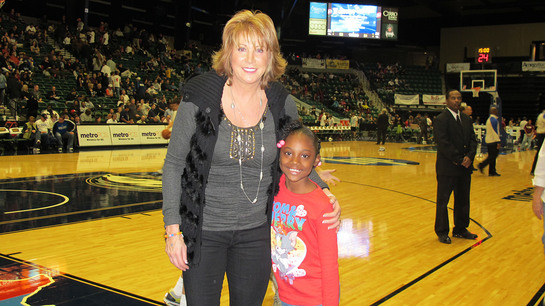 Lieberman, who became a Big Brothers Big Sisters celebrity ambassador this summer, expects Foxx's new role to attract other high-profile athletes and entertainers to advocate for the national mentoring organization. Basketball Hall of Famer and two-time Olympian, Lieberman has committed to appearing at a series of 2013 Big Brothers Big Sisters' recruitment and fundraising events to help the organization increase its capacity to serve more children.
"Providing opportunities to help children overcome adversity to find success as adults is my life's mission," Lieberman said. "Last year, when I met Kimmie, my eight-year-old Little Sister, it turned out I'd already met her. She was one of the young athletes at my basketball camp! I cannot tell you how pleased I am that as a result of her mother seeking Big Brothers Big Sisters' support, I get to continue my friendship with Kimmie as her long-time mentor."
Lieberman, AKA "Lady Magic," is well-known in sports, having broken barriers in women's and men's professional basketball. She currently serves as the TV analyst for the Oklahoma City Thunder on Fox Sports Southwest, as well as assistant general manager for the Texas Legends NBA Development League team (official minor league affiliate of the Dallas Mavericks), she has been a WNBA player, coach, and a broadcaster for ABC, NBC and ESPN. As an author of Playbook for Success and the first female coach of a men's team in the NBA D-League, her motivational presence is rich and inspiring.
"In addition to being a business and sports champion, Nancy is an amazingly talented speaker who effectively uses humor to communicate the importance of mentoring to motivate people to donate and volunteer," said Big Brothers Big Sisters of America President and Chief Executive Officer Charles Pierson. "We are delighted that she has committed to boosting her support next year."
Lieberman began her professional career with the Dallas Diamonds of the Women's Professional Basketball League. Recognized as the only woman to play in a men's professional sports league, in 1986, she played with the United States Basketball League's Springfield Fame and in 1987 joined the Long Island Knights. The next year, she toured the world as a member of the Harlem Globetrotters' Washington Generals. In 1997, at age 39, drafted by the Phoenix Mercury, she became the oldest WNBA player and in 2008, at age 50, she topped that record, returning to the league's Detroit Shock for one game.
Source: PR Newswire