On April 17, Jumpstart – a national early education organization – brought New York Times best-­selling author, acclaimed actress and producer Tina Fey (Bossypants) and Cindi Leive, editor-­in-­chief, Glamour magazine to its 8th annual Scribbles to Novels event at Cipriani Wall Street.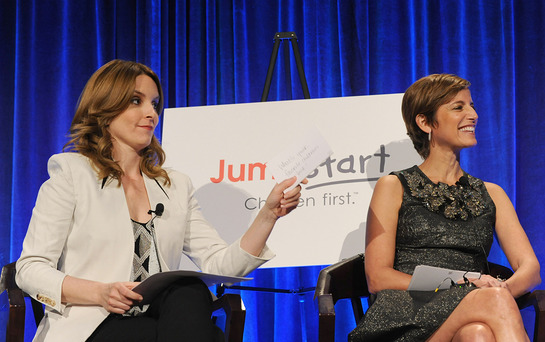 The event spotlighted the work of these luminaries while bringing attention to Jumpstart's mission of working towards the day every child in America enters kindergarten prepared to succeed.
In addition to Ms. Fey and Ms. Leive, The Honorable Cory A. Booker, Mayor of Newark, New Jersey joined Jumpstart at the event. Just six months ago, Jumpstart launched its program in Newark and now 43 Corps members from Montclair State University are serving 105 children at the Early Childhood South School.
"Jumpstart helps young children develop the essential skills they need to be ready for kindergarten and a bright academic future. We know that children from economically disadvantaged communities tend to fall behind and stay behind their more affluent peers," said Sharon Reilly, executive director of Jumpstart in the Tri-state area. "Jumpstart is an organization that helps close this achievement gap before it starts. We are deeply thankful to Tina Fey, Cindi Leive and Cory Booker for their help in celebrating Jumpstart's 20th anniversary and for building much-­needed awareness to this urgent issue."
Jumpstart's Scribbles to Novels brought together an audience of 600 supporters and raised more than $1 million in support of Jumpstart's program in New York, New Jersey and Connecticut.