The roof was well and truly raised at the Plage Royale private members' club in Cannes this week, when over 300 guests joined three powerful and philanthropic women — Supermodel Natalia Vodianova, Caroline Baron and Daphna Ziman – at the inaugural Beach Ball Gala in support of Naked Heart Foundation and FilmAid International.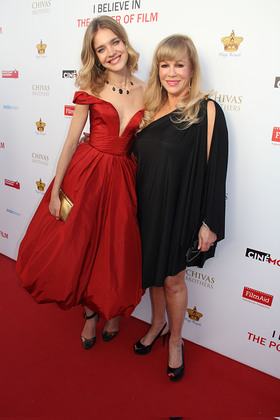 In partnership with Cinemoi Television Network, guests including Mel B, Radha Mitchell , renowned British fashion designer Julien Macdonald and swimsuit designer Melissa Odabash, enjoyed amazing food and specially crafted Beach Ball cocktails from Sodastream and Chivas. The evening's emcee, Cinemoi North America President Daphna Ziman, and Natalia Vodianova and Caroline Baron, founders of Naked Heart Foundation and FilmAid International, shared inspiring words followed by a soulful live musical performance by R & B superstar Kenny Lattimore.
The evening raised approximately $500,000 through a silent and live auction conducted by Christie's, with rare offerings including a private photo session with Patrick Demarchelier which brought in over $100,000. The event was made possible by the generous support of Bocelli Family Wines, Guerlain Paris , Chivas, Sodastream, Plage Royale and Rodial.
"Cinemoi chose the Beach Ball Gala for its inaugural presence during the Cannes Film Festival because of the two powerful women, Natalia Vodianova and Caroline Baron , whose passion for helping women's and children's causes mirror Cinemoi's humanitarian philosophy," said Cinemoi North America President Daphna Ziman. "We were also thrilled with the warm reception Cinemoi received from celebrities and festival attendees who lauded our network for its quality and elegant programming," added Ziman.
Cinemoi North America, on DirecTV channel 259, is quickly becoming one of the most desired destinations on cable network — introducing American viewers to curated, contemporary and vintage movies and providing coverage to glamorous world events and exotic destinations. U.S. viewers have accessible 24-hour exciting and entertaining movie and lifestyle programming, primarily in English, ranging from CineDramas to CineFilmNoir, CineFestivals, CineDoc, CineCouture, CineGreen, CineThriller and CineRomance.
The Naked Heart Foundation was founded by Natalia Vodianova in 2004 to support efforts to eradicate child abandonment in Russia and build inspiring and accessible play facilities in impoverished areas across the country.
FilmAid International uses the power of film and media to transcend language and literacy, bringing life-saving information, psychological relief and much-needed hope to refugees and other communities in need around the globe.