Here is your chance to win a personal encounter with Cesar Millan just by donating to charity.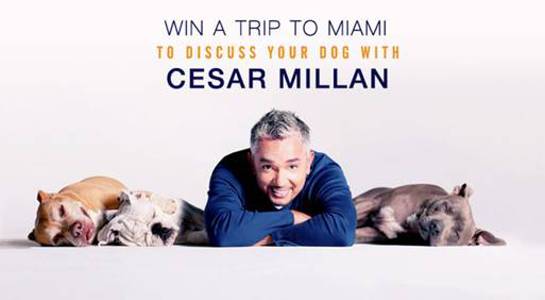 Dog lovers everywhere know that Cesar Millan's relationship with dogs is undeniably special. As a young boy he was teased for his close relationships with dogs by his classmates calling him 'dog boy,' but today, he is the pet care industry's most recognized and sought-after authority working in the field of dog care and rehabilitation. Pooch lovers everywhere would dream of the opportunity to meet this celebrated dog behaviorist in person and Omaze.com is now making their dream come true.
Anyone can now enter-to-win the ultimate dog-lover's experience: a flight to Miami with their best pal to meet Cesar Millan, VIP access to filming of the Cesar Millan show and some one-on-one time with the man himself backstage before the show. The winner will learn about Cesar's philosophies on dogs, see a live demonstration with a variety of breeds and participate in an audience Q&A session. The best part? Entries start at just $5 a pop and every 5 entries will teach a classroom of children humane education and helps save the lives of shelter dogs.
Donations benefit the Cesar Millan Foundation.
To find out more about the experience or Omaze.com, click here.