Stand Up To Cancer (SU2C) and the Prostate Cancer Foundation (PCF) will unveil a new print, broadcast and radio public service announcement that brings together music industry icon Quincy Jones and his daughter, actress Rashida Jones.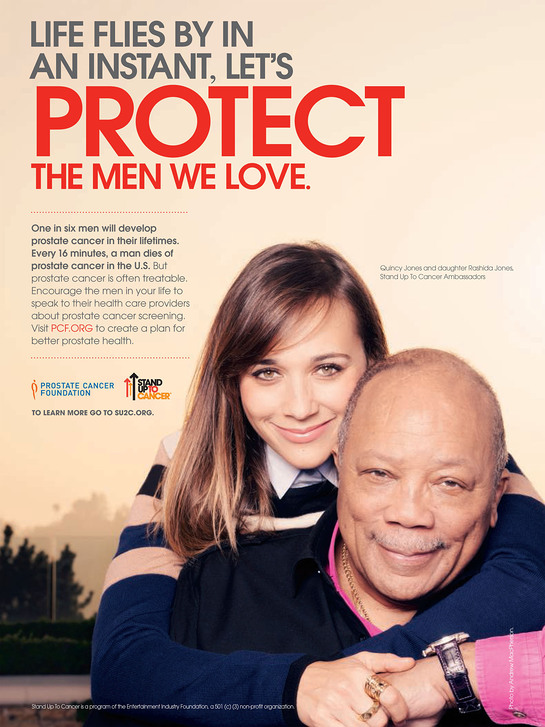 The PSA will begin airing in Major League Baseball ballparks in June.
The PSA, entitled "Cherishing Life's Special Moments," is designed to raise awareness about the importance of speaking with your doctor about prostate cancer. Prostate cancer is the second most common cause of cancer death for men in the United States, affecting one in six men, according to PCF. In the U.S. alone, 2.5 million American men and their families are currently living with prostate cancer.
Quincy Jones has enjoyed one of the longest, most successful careers in popular music as a record producer, conductor, arranger, composer, television producer, and trumpeter. Named by Time Magazine as one of the most influential jazz musicians of the 20th century, he has been nominated for a record 79 Grammys – won 27 – and in 1991, received the Grammy Legend Award. In addition to his numerous awards and honors, most recently Jones was inducted into the legendary Rock and Roll Hall of Fame.
"As a father, I cherish the special moments in life and understand how they can fly by in an instant," said Quincy Jones. "Prostate cancer has affected dear friends and family of mine, so I am honored to be part of this campaign with Stand Up To Cancer and the Prostate Cancer Foundation to reinforce how incredibly important it is for men to talk to their doctors about prostate cancer."
Rashida Jones is a film and television actress, comic book author, screenwriter, singer and currently appears on the hit NBC sitcom, "Parks and Recreation." She has appeared in numerous feature films, including I Love You, Man; Our Idiot Brother; The Social Network; The Muppets; and Celeste and Jesse Forever, which she co-wrote. Jones was nominated for an NAACP Image Award and was recognized in 2011 as an Influential Multiracial Public Figure runner-up.
"I was excited to shoot this PSA with my father," said Rashida Jones. "We have to protect the men we cherish, so please talk to your fathers, your grandfathers, husbands, brothers and sons and make sure they speak to their doctors about this disease and how to reduce their risk."
To date, SU2C and the Prostate Cancer Foundation have collaborated to fund two Prostate Cancer Dream Teams, each receiving $10 million over a three-year period:
• The first SU2C-PCF Prostate Cancer Dream Team, announced on April 1, 2012, is addressing therapeutic interventions for advanced prostate cancer with special emphasis on metastatic disease and delivering near-term patient benefit through investigation by a multidisciplinary, multi-institutionalDream Team of expert investigators. Titled "Precision Therapy for Advanced Prostate Cancer," the project is led by Arul M. Chinnaiyan, M.D., Ph.D., of the University of Michigan, and Charles L. Sawyers, M.D., of Memorial Sloan-Kettering Institute. The Dream Team scientists are drawn from five leading prostate cancer research centers in New York, Boston, Seattle and London.
• The second SU2C-PCF Prostate Cancer Dream Team was announced on October 9, 2012. The second team's project, titled "Targeting Adaptive Pathways in Metastatic Treatment-Resistant Prostate Cancer," is led by Eric J. Small, M.D., professor of medicine and urology and chief of the division of hematology and oncology at the University of California, San Francisco (UCSF), and Owen N. Witte, M.D., investigator of the Howard Hughes Medical Institute and distinguished professor of microbiology, immunology and molecular genetics at the University of California, Los Angeles (UCLA). The Dream Team scientists represent six world-class institutions in California, Portland, Ore., and Vancouver, Canada. This dream team is also made possible by a generous $2.5 million contribution from Movember.
"PCF has shared an 18-year tradition with Major League Baseball through our annual Home Run Challenge for Father's Day," said Jonathan W. Simons, MD, president and CEO of the Prostate Cancer Foundation. "This year we are delighted to be working with another great partner, Stand Up to Cancer, to raise awareness of this disease and drive home the crucial need for more life-saving research funding. There are over 2.5 million American men who are surviving prostate cancer this Father's Day and we want all men to be cured urgently. We are grateful to Quincy and Rashida Jones for filming a moving public service announcement to support our cause."
"Men are 40 percent less likely than women to have visited a healthcare provider in the past year…But talking to one's doctor about prostate cancer is critically important," said Stand Up To Cancer President & CEO Sung Poblete, PhD, RN. "We are thrilled to have the father & daughter pair of Quincy and Rashida Jones spread that message through this PSA, and hope it empowers men to speak with their doctors about prostate cancer and when screening is right for them so they can make informed decisions." To learn more, visit StandUp2Cancer.org or PCF.org.