The Duchess of Cornwall was the special guest as thousands of people raised a toast to community spirit by taking part in a Big Lunch event in Wiltshire last week.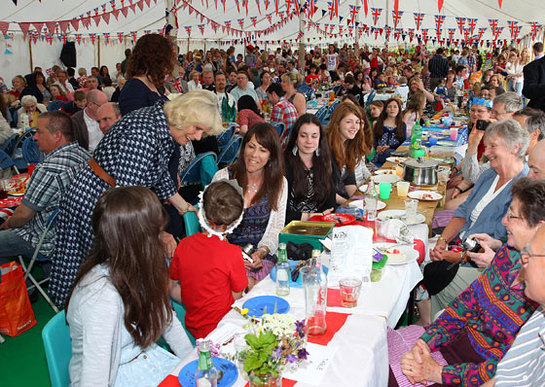 Her Royal Highness mingled with locals at Mead Community Primary School in Trowbridge for the party.
The Duchess is Patron of the Big Lunch, which is funded by the Big Lottery Fund, and aims to encourage people across the UK to have lunch with their neighbours for a few hours of community, friendship and fun on one day a year.
Dozens of communities across the country got the bunting out to mark the occasion, with actor Barbara Windsor among the guests for a celebration in Hackney Wick, London.
Visiting an event in Wiltshire, The Duchess joined in the community's festivities, which were mirrored in gardens, streets and community spaces across the UK.
Sir Tim Smit, co-founder of the Big Lunch, said: "It's amazing to see so many people across the country coming together, like The Mead Community Primary School, for such a positive occasion.
"As Patron of the Big Lunch we're honoured that The Duchess of Cornwall has chosen to mark our fifth annual event with a special visit.
"The Big Lunch really is a day to remember and a day that creates not only lasting memories, but lasting friendships and acquaintances that will be enjoyed for years to come.
"With millions of people taking to their streets, gardens and community spaces this afternoon for the fifth Big Lunch, today proves that we don't need a big national event like the Jubilee or the Olympics as an excuse to get together for a celebration."
Source: PrinceOfWales.gov.uk