A host of celebrities including Hollywood actor Steve Carell, teen star Miranda Cosgrove, former Pussycat Doll Kimberly Wyatt, soul singers Lemar and Beverley Knight, along with Strictly Come Dancing's Robin Windsor attended a special movie-themed celebration this week – The Little Star Awards party, organised by Cancer Research UK and TK Maxx to salute the bravery of children with cancer.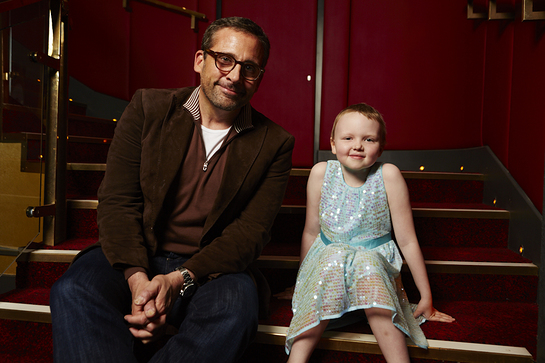 The party, held at The Empire Leicester Square, London, saw 20 inspirational young children from across the UK, who are currently battling or have undergone treatment for cancer, treated like movie star royalty. The children walked down the red carpet to flashing cameras and enjoyed an afternoon of fun craft activities, whilst mingling with the celebrities before receiving their Little Star Awards medals. The culmination of the showbiz extravaganza was a special screening of the comedy film Despicable Me 2 which stars Steve Carell as the voice of 'Gru'.
Steve Carell said: "I'm delighted to be here to attend the Little Star Awards party to celebrate the bravery and courage of children who have undergone such a gruelling time at a young age.
"These amazing children are an inspiration in how they have coped with their cancer diagnosis and it is truly my pleasure to be able to be here to see the children being presented with their special awards.
"Anything that helps the children and their families at this difficult time gets my full support and it's an honour to be involved with such a wonderful campaign."
Miranda Cosgrove said: "It's been so awesome meeting all of these wonderful kids today at the Little Star Awards party. Each one is so inspirational in their cancer battles. It is really a great honour to be able to be here and support the kids and these Awards."
Other celebrities who attended the party to entertain the children were comic double act Dick and Dom and CBBC's Sid Sloane and Ceallach Spellman.
The Little Star Awards in partnership with Cancer Research UK and TK Maxx celebrate the courage of all children who have been diagnosed with cancer. Every child nominated receives an award and a goody bag, including a £50 TK Maxx voucher. For more information visit www.cruk.org/littlestar.
Kimberley Wyatt said: "I have been so humbled by the courage of these inspirational kids at the Little Star Awards party today. Having heard their incredible stories, their determination and bravery is truly an inspiration to us all.
"Even though there has already been amazing progress in the fight against children's cancer, today's celebrations highlight that we still need to continue to support them all the way and keep on fighting."
Beverley Knight said: "The Little Star Awards are an amazing way to celebrate the incredible courage of children diagnosed with cancer and to show these brave Little Stars and their families that they are always in our thoughts. I am so glad to be able to attend the party this year to see the children having such a good time as often during their gruelling treatment they miss out on everyday fun things that we all take for granted. The Little Star Awards party is a fantastic celebration for all the amazing children who have faced such a tough time."
Lemar said: "It's a real privilege to attend the Little Star Awards party once again this year. The Awards really mean a big deal to all the children and families and it's great to be able to join in the fun on this special occasion.
"A cancer diagnosis is unbelievably hard for a child and their family to deal with and having kids of my own, makes it all the more poignant for me. I think it's great that the Little Star Awards can help to brighten their lives and raise awareness of all the research that is continuing to make progress in the fight against children's cancer."