There was a lot of excitement on the campus of North Shore Animal League America's national adoption headquarters in New York when Renee Felice Smith of NCIS: Los Angeles loaned her time and talent to co-direct and film a Public Service Announcement for the Mutt-i-grees Curriculum.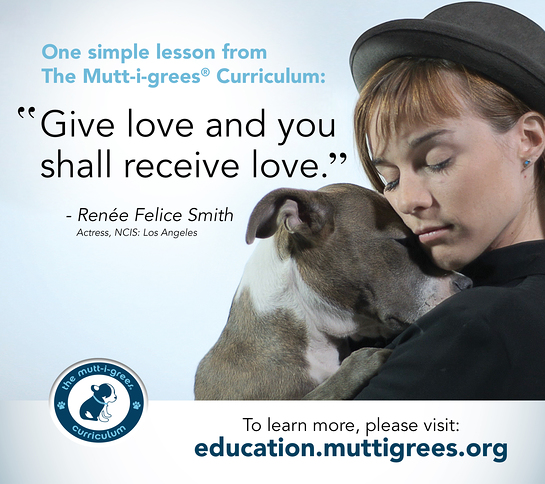 The actress was joined by a cast made up of thirty five pre-k, elementary, middle and high school student volunteers. In addition to the human cast, the PSA features some of their best and brightest shelter pets, otherwise known as Mutt-i-grees!
The PSA, which launched in early June, highlights this unique educational program now in over 2,000 schools nationwide. Responding to the needs of the whole child, the Mutt-i-grees Curriculum is unique, bridging social and emotional learning with humane education with the ultimate goal of helping to end euthanasia. The PSA will bring the benefits and highlights of the Mutt-i-grees Curriculum to the attention of school administrators, teachers, parents and entire school communities.
While the Curriculum does not require the presence of a pet in the classroom, animals in the form of puppets and toys are effectively utilized in commanding attention, improving cognitive abilities and contribute to teaching students how to be more compassionate and empathetic. Some schools do choose to use therapy dogs or shelter dogs to enhance the lessons.
The curriculum was developed by North Shore Animal League America's Pet Savers Foundation, in collaboration with Yale University's School of the 21st Century, and funded by The Cesar Millan Foundation. The lessons are easily implemented with scripted lessons that align with the Common Core standards and feature lessons on dog behavior developed by renowned dog behavior expert, Cesar Millan.
Renée, along with top advertising and media professionals, donated their time and talent to develop a meaningful and impactful message: "a piece," said Renée, "that will raise awareness about this revolutionary program and effectively introduce the Mutt-i-grees Curriculum to the world." She added, "We take tests, we study for the SATs and that's all fine and good, but what the Mutt-i-grees Curriculum does is show another side of the spectrum, and show another side of learning and becoming a whole person. Education programs like the Mutt-i-grees Curriculum are key to building a more compassionate society, a more accepting society. A society that has more tolerance for each other."
Renée's passion for children and animals was evident on the set but doesn't end there. She is developing a children's book series based on her dog, Hugo.
To view the Mutt-i-grees Curriculum PSA or to learn more about the Mutt-i-grees Curriculum, visit www.education.muttigrees.org.