Purina ONE has announced ts continued partnership with Andy Cohen and his rescue dog, Wacha, to raise awareness for the brand's ONE Difference Campaign.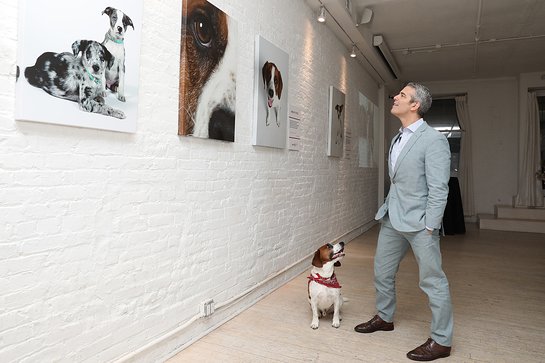 The campaign celebrates how a single change, such as taking the Purina ONE 28-Day Challenge, can lead to a visibly healthy and lively pet.
As part of this campaign, Andy and Wacha hosted an event at a New York City gallery featuring never-before-seen photos of Andy and Wacha in their home, alongside beautiful images of shelter dogs at North Shore Animal League America and featured on Petfinder.com – the site where Andy found Wacha. The gallery images featured the visible differences that Wacha and the shelter dogs experienced after being fed Purina ONE, including bright eyes, a shiny coat, healthy energy, and strong teeth and healthy gums.
"I rescued Wacha through Petfinder, and for the past few years we've been working with Purina ONE," said Cohen. "Ever since we took their 28-Day Challenge, switching Wacha's food to Purina ONE, I've noticed visible differences, like a shinier coat, brighter eyes, healthier-looking teeth and gums, and a lot of energy. And he really loves his food! He still runs to his bowl every morning."
This year, the brand is supporting shelter dogs by donating $5, up to $28,000, to the Petfinder Foundation for every person who signs up for the Purina ONE 28-Day Challenge between May 22 and June 30. The donation will help support the Petfinder Foundation in its mission to help more dogs like Wacha find their forever homes.
"Andy and Wacha have been a crucial part of our Purina ONE Difference Campaign over the past few years, which strives to make all dogs visibly healthy and aims to promote pet adoption," said Joe Chatman, Purina ONE brand director. "They have a great success story to tell, and serve as an example of how any dog can be healthy when provided with the high-quality nutrition found in Purina ONE."
For more information, click here where dog owners can take the Purina ONE 28-Day Challenge, view testimonial videos, and use tools to find out which Purina ONE SMARTBLEND dry dog food formula is right for their dog.