The National Alliance for Public Charter Schools has released remarks by internationally renowned, multi-platinum recording artist Armando Christian Perez, also known as Pitbull, before an audience Monday morning of 4,000 public charter school leaders and advocates from across the country.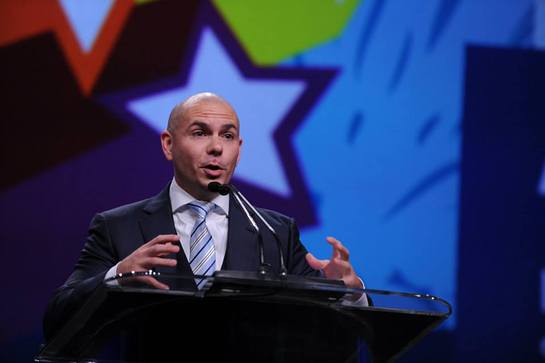 The remarks kicked-off the 2013 National Charter Schools Conference, held this week in the D.C. Convention Center.
Pitbull – who has sold millions of singles, produced number one hits on billboard charts in 15 countries and been nominated for, or received, more than 50 music awards – is also a charter school parent and charter school founder. Coming off of a tour, he was in Washington, D.C. Monday to kick-off the 2013 National Charter Schools Conference. The child of parents who fled Cuba seeking freedom and better educational opportunities, Perez speaks to why public charter schools are "revolutionizing education in America" and why he founded the SLAM charter school in Miami, which has been featured on The Today Show and Good Morning America.
"It is a sign of the broad reach and resonance of public charter schools nationwide that an international superstar like Pitbull joined us to kick off our largest assembly of charter school supporters to date," said Nina Rees, president and CEO of the National Alliance for Public Charter Schools. "Mr. Perez is one of the most powerful voices speaking out today on behalf of young Americans and communities, and deserves great credit for drawing attention to the need to give all young people access to good public schools."
A native of Miami, Florida, Perez – also known as "Mr. Worldwide" and "Mr. 305" – is a globally successful musician, performer, business entrepreneur, fashion icon and actor whose career sales exceed five million albums and 40 million singles worldwide. A civic leader in Miami, Perez is also the founder of SLAM public charter school, which operates a middle and high school. SLAM's mission is to innovatively and deeply prepare students for secondary studies and beyond. Through an emphasis on preparation for sports-related careers, SLAM's teaching philosophy centers on the "3 R's": rigor, relevance and relationships. The school's first cohort of students will begin classes in the fall of 2014.
Previous speakers at the conference include President Bill Clinton, Microsoft Founder and philanthropist Bill Gates and Actor Bill Cosby. Each year the conference brings together public charter leaders, teachers, advocates, policy makers and education reformers nationwide to inspire forward momentum with innovative ideas and information on what is working best to serve young people. A complete overview of the entire week's activities can be found at www.publiccharters.org/Conference.
Source: PR Newswire