Internationally-acclaimed singer/songwriter and human rights activist Annie Lennox was this week presented with an Honorary Degree by the University of Essex.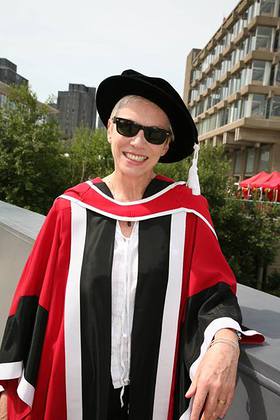 Lennox received her Honorary Degree in recognition of her work in political and social activism and her extensive campaigning for humanitarian causes. She was presented with the honour by the University's Chancellor Lord Phillips of Sudbury during a packed Graduation ceremony at the University's Ivor Crewe Lecture Hall on Colchester Campus.
"People ask me all the time, about HIV/AIDS," Annie said during her speech. "They'll say 'I've heard about the AIDS pandemic in Africa…but I don't know what to do'. The answer is, of course, both simple and complex. You do what you're drawn to do. And if you're interested enough, you figure out what your contribution is going to be. You start by becoming aware, by being concerned, by breaking through your indifference, passivity, cynicism or intolerance. You transform. You become passionate..You become an activist."
During the ceremony, the University's Dr Pam Cox spoke about Ms Lennox's support for a wide-range of humanitarian projects which have made vital, practical, life-saving differences – above all in South Africa. Dr Cox also mentioned Ms Lennox's 'SING' campaign which works with women and children with HIV – raising awareness regarding preventing the transmission of the virus from mother to child.
After the ceremony Ms Lennox said: "The University of Essex has been recognised by both the Queen and Nelson Mandela for its involvement with the fight for human rights around the world, and I am delighted to receive this award in recognition of my work to raise awareness and funds for humanitarian causes and, in particular, for those affected by HIV and Aids. It is vital to work together to help people who need access to education, health care and justice."
Ms Lennox is one of seven distinguished individuals to receive Honorary Degrees at this year's Graduation at Essex, which will see 2,745 students graduate ̶ the University's biggest Graduation ever held.
Also receiving an honorary degree today at the University of Essex was double Olympic gold medallist cyclist Laura Trott, in recognition of her significant achievements in European, World and Olympic cycling.