Retired NBA Legend Shaquille O'Neal and his mom Lucille sounded the morning alarm — literally — as part of one of the Largest Wake Up Calls on Thursday, August 1st in New York City.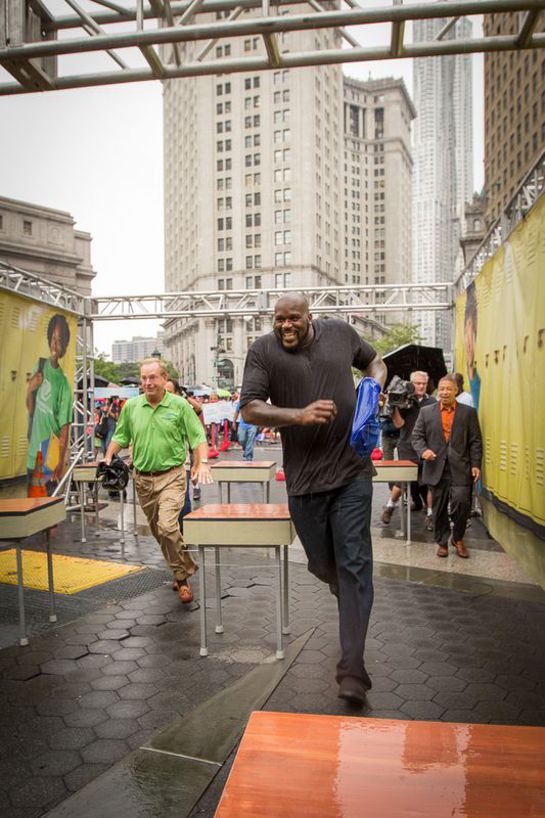 It was a signal to the start of a unique event where hundreds of teenagers competed in a creative obstacle course designed to dramatize the daily activities of all kids getting ready for their school day. But… they were challenged by difficulties, distractions and disturbances that made their attempt to get to school and receive that final diploma a huge undertaking.
Shaq and his mom know firsthand that by providing kids with a safe, constructive environment and dynamic after school programming, Boys & Girls Clubs can make a difference, especially for those most in need. As a kid growing up, the former basketball star often headed to the Boys and Girls Club to hangout with friends and talk with mentors about his future. Shaq has said it was at the Boys and Girls Club where he learned to be a leader and not a follower.
The event is part of the Boys & Girls Clubs of America (BGCA) national Tools for Back-to-School campaign, encouraging parents, families, and communities alike to support academic preparedness for our youth, especially those most in need, by providing access to necessary tools and resources, including Boys & Girls Clubs. As part of this event, JCPenney served as BGCA'S partner in raising awareness about the importance of academic preparedness and the BGCA'S after-school programs which help support kids ensuring they have the right tools to be successful this school year.