On Friday, August 9, 2013, Mike Shinoda and Chester Bennington of Linkin Park made a special appearance at Hard Rock Cafe Tokyo Roppongi to unveil Hard Rock International's Linkin Park Signature Series: Edition 31 T-shirts, benefiting Music for Relief and its Power the World initiative.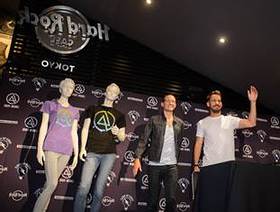 The exclusive merchandise line, a partnership between the Grammy-Award winning band and world-renowned entertainment and lifestyle brand, includes men's and women's T-shirts featuring artwork by band member Mike Shinoda. These special-edition products will be available for a limited time online and at select Hard Rock Cafe, Hotel and Casino locations worldwide beginning in August 2013.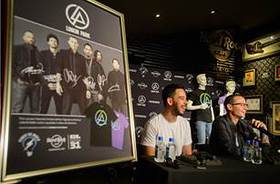 A portion of the retail price from sales of Hard Rock's Linkin Park Signature Series: Edition 31 T-shirt will benefit Music for Relief, a non-profit organization founded by Linkin Park, and its Power the World campaign. Worldwide more than one billion people have no access to electricity; compromising health, education, safety and livelihoods. Linkin Park and Music for Relief launched Power the World to raise awareness about what it means to live without energy access and to highlight innovative clean energy solutions. Visit www.powertheworld.org for additional details.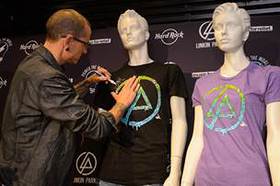 For additional partnership details please visit www.hardrock.com.