Pennyroyal Studio and Grammy-Award winning Zac Brown Band announce the release of a handcrafted Zac Brown Band Necklace with proceeds benefiting Zac's own Camp Southern Ground.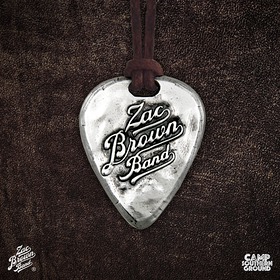 Pennyroyal's many charitable collaborations have raised over $230,000 for various charities since 2009.
The limited release Zac Brown Band Necklace will be available to order from August 8th through September 9th with 30% of the proceeds benefiting Zac's passion project, Camp Southern Ground. The handcrafted guitar pick-shaped pendant is available in sterling silver or bronze and features the Zac Brown Band logo on the front and the Camp Southern Ground logo and Zac's signature on the back. The pendants will be available on both adjustable brown leather cord and sterling silver chain (prices vary). The Zac Brown Band Guitar Pick Pendant starts at $55 and will be available for purchase exclusively here.
Camp Southern Ground, the passion project of Zac Brown, will be a 500-acre Georgia camp catering to children of all abilities and socio-economic backgrounds. It is the latest of many organizations to benefit from Pennyroyal Studio's handcrafted charitable designs. Brown says, "There is nothing more worthwhile than helping kids. I want everyone who wears this necklace to know that they are helping to make a difference in the lives of these kids that will last them a lifetime."
Pennyroyal's Owner/Designer, Tim Foster shares Zac's passion for giving and had this to say about this latest collaboration, "Zac and I met a few years ago and talked about collaborating on a design to help kids and I am beyond proud to support his vision for Camp Southern Ground. I love working with passionate artists and passionate fan bases to make a difference in the world and you'd be hard pressed to find anyone more passionate than Zac and the Zamily."
Source: PRWeb.com