Imagine seeing Grammy award-winning singer Ne-Yo in a tug-of-war with Olympic Legends Jackie Joyner-Kersee and Gail Devers on his side – and all 3 of them losing to a group of kids from the Boys & Girls Club!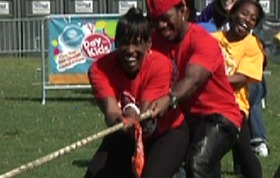 All three celebrities took part in the huge National event kicking off Day For Kids, an initiative which launched on September 7th, in Atlanta, with more events to follow across the country throughout the months of September and October. The events are aimed at encouraging adults to act like kids again, to remind them how important childhood is, and to help children everywhere enjoy their childhood, since so many nowadays are facing critical issues like poverty, obesity, bullying and other problems.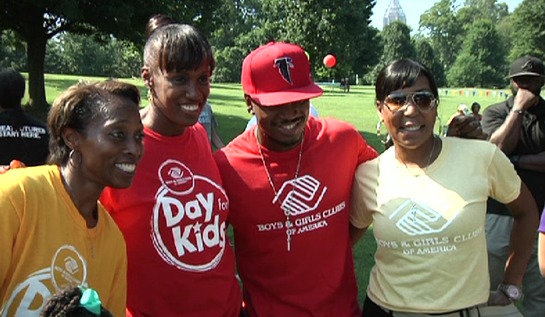 National Statistics today show:
15.1 million school-age children are home without adult supervision after school every day
One in five children live in poverty
One in four high school students fail to graduate each year
Nearly 4,400 juveniles will be arrested every day
One-third of American children are obese or overweight
But, one day can help change this trajectory and put them on the path to a great future. For many at-risk youth, that's the day they enter a Boys & Girls Club to get the needed resources and support to help them develop into productive adults.
To elevate the critical issues facing youth in our country, Boys & Girls Clubs of America is leading this nationwide initiative. The Day for Kids events bring together hundreds of adults to participate in fun childhood field day activities, including relay races, tug-of-war and dodge ball.
Speaking to the crowd, Ne-Yo talked about his history with the Boys & Girls Club, saying, "The Boys and Girls Club helped me gain the self confidence to go ahead and do what it is that I knew that I was destined to do."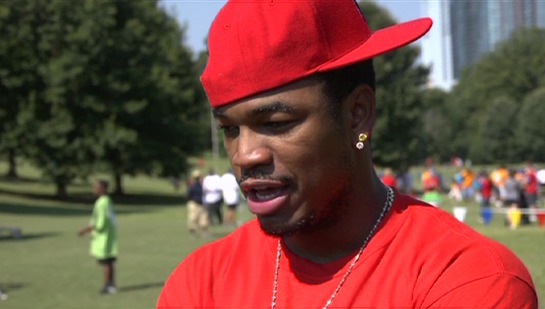 When interviewed later, he added, "…I feel like, in that I come from here, for me to come back and to show these kids my success is inspiration for them to then go off and be great themselves… I would not be who I am if not for the Boys and Girls Club."
To find out what is happening near you, contact your local Boys & Girls Club, or visit the Day For Kids website.