ITV's Sherrie Hewson has joined with the international campaigning organisation, Cruelty Free International, to request the UK government make good on its pledge to introduce a ban for testing household products and their ingredients on animals.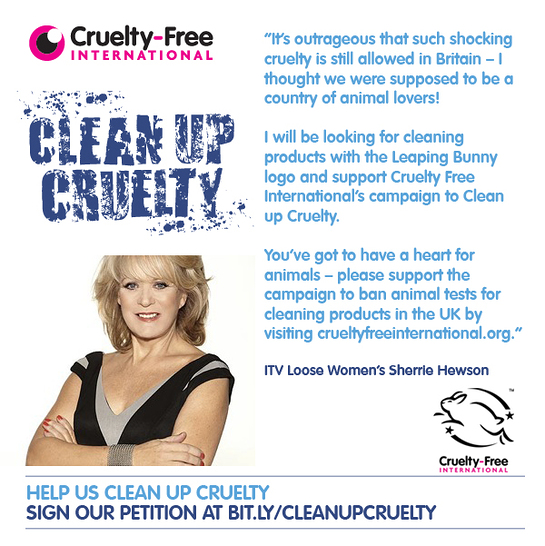 After three years of consideration and promises the Government has still not made a final announcement regarding the ban and now looks set on doing a U-turn having indicated that only finished products will be covered by the ban and not the ingredients.
Cruelty Free International has launched its new campaign initiative, Clean Up Cruelty, which has the support of numerous MPs, including Caroline Lucas, Henry Smith and Adrian Sanders. The campaign also has the support of leading manufacturers whose household products are certified as not tested on animals under the Cruelty Free International's 'Leaping Bunny' programme.
ITV's Loose Women presenter, Sherrie Hewson, said: "It's outrageous that such shocking cruelty is still allowed in Britain – I thought we were supposed to be a country of animal lovers! I will be looking for cleaning products with the Leaping Bunny logo and support Cruelty Free International's campaign to Clean up Cruelty .You've got to have a heart for animals – please support the campaign to ban animal tests for cleaning products in the UK by visiting www.crueltyfreeinternational.org."
Astonish said, "Astonish is more than happy to lend our support for the Cruelty Free International Clean Up Cruelty campaign. With an EU ban in place for cosmetic testing on animals it is certainly the time for a ban on household product tests. We wish Cruelty Free International success in achieving this goal"
Ecover said, "Ecover is proud that all our household products meet the Cruelty Free International Leaping Bunny standard and are free from animal testing. We support the Cruelty Free International campaign for a UK ban on all household product tests on animals; including both ingredients and the final products."
Cruelty Free International Chief Executive, Michelle Thew, said: "Household names such as Astonish, Method and Ecover have shown that it is possible to sell safe and effective household products without inflicting pain and suffering on animals. The UK led the way in implementing a ban on animal testing for cosmetics. It is now time to do the same with household products and their ingredients. We urge the Government to implement this ban as soon as possible and take the cruelty out of cleaning."
Other brands which currently sell household product accredited by the Leaping Bunny scheme include Marks and Spencer, the Co-opertative, Method, Bio-D and Greenscents.