Following Europe's cosmetics animal test ban in March, actress Ashley Bell has joined Cruelty Free International to call for an end to cosmetics tests on animals in the USA, as part of the non-profit's mission to end product testing on animals worldwide.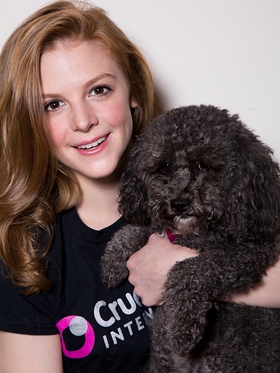 Ashley Bell, who is set to make her Broadway debut in Machinal this winter, and most recently starred in AMC's "The Walking Dead" webisode series "The Oath," states: "In this day and age, it's unconscionable that animals are forced to suffer for beauty products here in the U.S. I make the right choice, the humane choice, and only use cosmetics that are not tested on animals. I'm happy to support the great work of Cruelty Free International; the organization committed to ending cosmetic animal testing in the U.S. Europe has already established a groundbreaking change for animals by banning these cruel tests. It is now time for the U.S. to do the same."
Ashley insists on only using cruelty free products at home and during filming, and wore Leaping Bunny certified cosmetics Tata Harper Skincare and Arbonne Cosmetics as she posed with her dog, Suzette, in a Cruelty Free International t-shirt to raise awareness of the continued cruel use of animals to test everyday cosmetic and personal care products, from soap to toothpaste.
Animal tests involve rabbits, guinea pigs, mice and rats who can be injected, gassed, force-fed and killed for cosmetics. Ashley Bell and Cruelty Free International are joining forces to bring about a ban in the U.S., following Europe's lead and moving the U.S. off the global list of countries that still allow animals to be used in painful and fatal test to develop beauty products.
As well as supporting the work of Cruelty Free International to end cosmetics tests on animals, Ashley is currently directing and producing "Love & Bananas," a feature length documentary that aims to educate the public and help end the universal practice of training elephants through cruel and abusive methods.
Cruelty Free International Chief Executive, Michelle Thew, stated: "We are delighted to have Ashley Bell's support for our work to end painful and outdated animal tests that are still legal for beauty products sold here in the USA. Ashley does the right thing for animals by wearing cruelty-free make-up. If you care for animals, you can make a difference by looking for cruelty-free products marked with the Leaping Bunny and supporting Cruelty Free International's call to the FDA to provide official guidance for the cosmetics industry encouraging the use of non-animal tests and, where it has the authority to do so, requiring that only these be used."
She added: "It's time for the U.S. to update its policies on cosmetics safety and testing regulations to match international progress and consumer expectations for safe and cruelty-free cosmetics. With your help – and the will of the American public – we can convince the FDA and Congress to end cruel and unnecessary animal testing for cosmetics."