"We want you to join our flock and adopt a turkey today!" say Reggie and Jake, the animated stars of the new movie "Free Birds" in theatres now.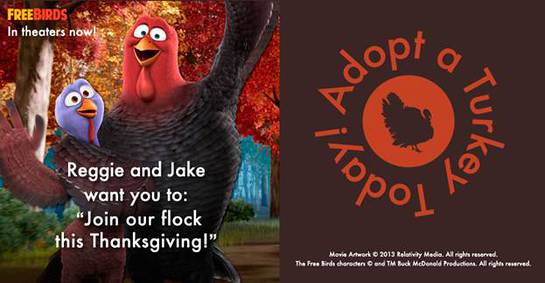 These lovable characters, voiced by Owen Wilson and Woody Harrelson, have teamed up with Farm Sanctuary, the largest farm animal rescue and protection organization in the United States, to serve as "spokesturkeys" for the group's annual Adopt a Turkey Project.
The Adopt a Turkey Project, which gives people the opportunity to sponsor one of the rescued birds who reside at the group's shelters in New York and California, has provided care for more than 1,000 rescued turkeys over the last 25 years. For a one-time donation of just $30, adopters receive a special adoption certificate complete with color photo and fun details about their new adopted turkey friend.
Turkeys are, in fact, intelligent and social animals, who form lifelong bonds and possess unique abilities to communicate with one another. Just as "Free Birds" brings to life the personalities of each of its animal characters, caretakers at Farm Sanctuary know that real-life turkeys possess distinct personalities and exhibit a joy for life. Among the adoptable turkeys are:
Tulip, who lives at Farm Sanctuary's New York Shelter; she is sensitive and kind to her flockmates and loves grapes and cranberries,
Minerva, an attention-loving turkey with a passion for sunflower seeds, who resides at the rescue group's shelter near Los Angeles, and
Tibbott, an outgoing guy who resides at Farm Sanctuary's Northern California Shelter; he loves to meet new people and snack on lettuce and grapes.
"After more than 25 years of caring for rescued turkeys through our Adopt a Turkey Project, we're delighted to team up with Reggie and Jake this Thanksgiving," says Farm Sanctuary President and Co-founder Gene Baur. "We hope their amazing adventure will inspire even more people to adopt a turkey as part of their holiday tradition."
To learn more about the Adopt a Turkey Project, visit adoptaturkey.org or call the Turkey Adoption Hotline at 1-888-SPONSOR.
Farm Sanctuary operates three shelters in New York and California that provide lifelong care for nearly 1,000 rescued farm animals, works to change laws to decrease abuse of farm animals, and promotes compassionate vegan living.