Leading lifestyle designer Kathy Ireland and two of Hollywood's classic beauties, Jacqueline Bisset and Dyan Cannon, passionate supporters of the YWCA of Greater Los Angeles' goals of eliminating racism and empowering women, contributed their glamour and passionate belief to the organization's recent Rhapsody Ball honoring Los Angeles County Supervisor Gloria Molina, Los Angeles District Attorney Jackie Lacey and Union Bank with its highest public service awards.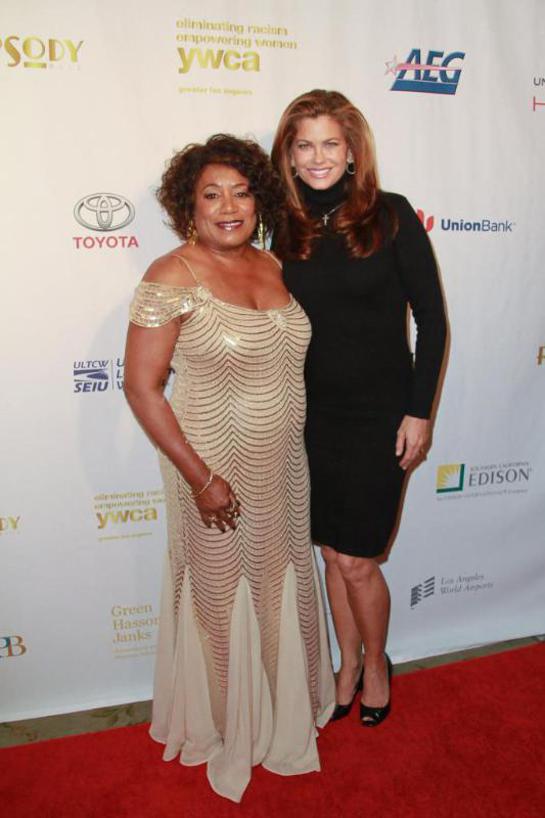 The three celebrity participants extolled the work of YWCA GLA's President and Chief Executive Officer, Faye Washington and her organization's "assistance of the area's most at-risk population, emancipated foster youth facing survival on their own with no resources and minimal training, and other underserved individuals," as Ms. Ireland noted. Proceeds of this year's event will fund Workforce/Youth Development, Sexual Assault Crisis Services, Child Development, and Senior Services.
The accolades to Supervisor Molina, District Attorney Lacey and Susan Beat, Senior Vice President of Commercial Banking Treasury Services for Union Bank, were the highlight of the formal fund-raising ball hosted by the Society of Benefactrix, a special donor circle which supports YWCA GLA programs.
"While the goal of most young people launching into life is success," YWCA GLA's respected chief officer, Faye Washington noted, "our collaborative partnerships achieve that success by assisting other young people whose first and only imperative is survival. No two words beginning with "s" could have more opposite meaning. Our Rhapsody Ball helps us provide assistance to improve the lives of so many of our children, youth, individuals and communities. No task is more important to our becoming a caring and worthwhile society."
Founded in 1893, YWCA Greater Los Angeles addresses the emerging and ongoing needs of the greater Los Angeles area. As a women's membership movement built on the mission of eliminating racism and empowering women, the organization celebrates more than 119 years of community service. YWCA Greater Los Angeles core initiatives include: Workforce Development, Child Development, Youth Development, Advocacy, Housing, Senior Programs, and Sexual Assault Crisis Services.
Source: PR Newswire