The Queen and The Duchess of Cornwall got in the festive spirit last week when they helped decorate a Christmas tree – with a pair of royal baubles.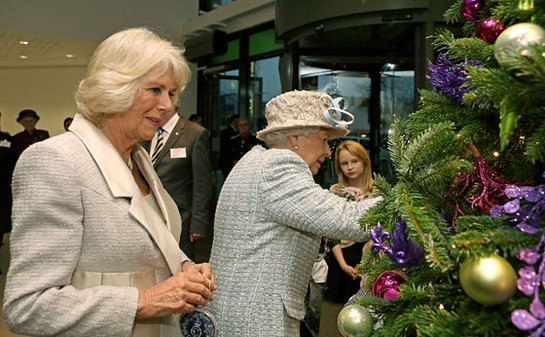 Armed with the specially made trinkets, The Queen and The Duchess of Cornwall hung them from the branches of the tree during a visit to open Barnardo's new headquarters in East London. Staff from the leading children's charity moved from their outdated base in Barkingside this autumn to a multi-million pound purpose-built building next door.
The organisation was founded by Thomas Barnardo, who set up his Ragged School in 1867 to help the abused, vulnerable, forgotten and neglected children of east London.
By the time he died in 1905, his organisation was running 96 homes caring for more than 8,500 children.
His work continued and today Barnardo's helps tens of thousands of children, young people and their families every year – running a range of projects from counselling services for abused youngsters to vocational training.
The Queen's decoration was made of red velvet covered with gold coloured thread and featured her cypher below a crown and a floral pattern around its edge. The Duchess's had a similar design but was made from blue velvet and featured her cypher surrounded by a ring of white beads.
The Queen reached up to find a good spot for her festive decoration on the tree already covered in baubles and The Duchess also carefully placed her trinket.
Siblings Skye, aged eight, and seven-year-old Summer, who are supported by a Barnardo's children's centre in Essex, presented the baubles to The Queen and The Duchess and also gave them Christmas stockings filled with tree decorations from the Barnardo's shop.
Source: PrinceOfWales.gov.uk