This Friday, T.I. will once again spread holiday cheer in his Atlanta community, in celebration of children across the metro area.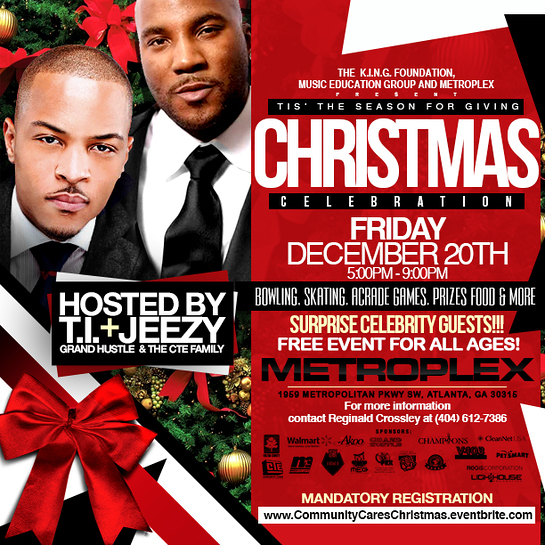 On December 20th, T.I. will team up with fellow Atlanta rapper, Jeezy to host an unforgettable toy drive and evening of fun and celebration for more than 1,800 pre-registered Atlanta children. The free event will be held at Metroplex at 1959 Metropolitan Parkway in Southwest Atlanta, and will include free bowling, skating, food, prizes, arcade games and other surprise celebrity guests. There will also be free, on-site health screenings for all attendees.
T.I. expresses his holiday sentiments, "I haven't always been in a position to give and provide for others and now that I am, I don't take it for granted. Presents are cool, but to be able to look into a child's eyes and remind them that they can become and do anything they put their mind to, is one of the greatest gifts we could ever give."
The 'Tis the Season for Giving' event is presented by Music Education Group in partnership with Fulton County Human Services, Metroplex, and T.I.'s Give Like a King Humanitarian Initiative and supported by Grand Hustle, The CTE Family and media partner, V-103.