City of Hope, one of the largest cancer research and treatment organizations in the United States, honored Lyor Cohen, global head of Music at YouTube and Google, last week at its Music, Film and Entertainment Industry (MFEI) fundraising group's Spirit of Life Gala.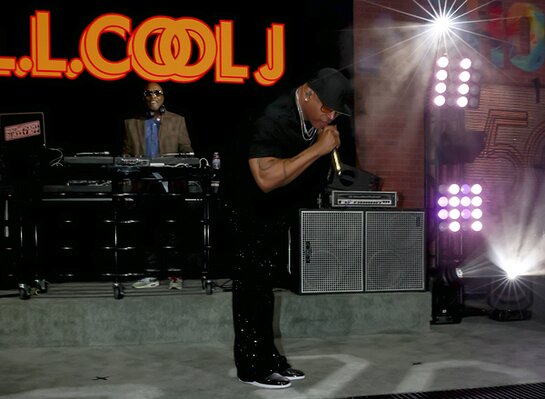 The annual event featured a special performance from LL Cool J and DJ Jazzy Jeff, plus a curated "DJ Cassidy's Pass The Mic Live!" segment with – in order of appearance – Slick Rick, Kurtis Blow, Big Daddy Kane, MC Serch, Nice 'N Smooth, EPMD, Redman, Onyx, Warren G, Domino, Musiq Soulchild, Dru Hill, Ja Rule, T.I., Swizz Beatz and Public Enemy.
This year's Spirit of Life campaign culminated at the sold-out gala held at the Pacific Design Center in Los Angeles. Led by Cohen, MFEI raised over $4.3 million to benefit City of Hope's efforts to address the challenges underserved populations face in obtaining access to quality cancer care. The dollars raised are a significant achievement during a milestone year as City of Hope celebrates 50 years of philanthropic partnership with MFEI. Over the course of this half-century, the group has raised over $150 million to transform the future of cancer care through best-in-class patient care, innovative research and vital education focused on eliminating cancer and diabetes.
"As we aim to close the care gap and eliminate inequity between the innovation taking place at top cancer centers and the people who can access these medical breakthroughs, collaboration helps make this possible," said City of Hope CEO Robert Stone, the Helen and Morgan Chu Chief Executive Officer Distinguished Chair.
"It's incredible to see so many members of the music community gathered in one place with the single purpose of fighting cancer for all," said Kristin Bertell, chief philanthropy officer at City of Hope. "The legacy of philanthropy and partnership with the music and entertainment industries has supported City of Hope in making great strides to expand access to top cancer care, and we are so grateful."
A short video opened the program, transporting guests back in time, commemorating 50 years of hope and music, and recognizing honorees from Spirit of Life galas of the past.
Evan Lamberg, MFEI board president and president of Universal Music Publishing Group, then welcomed over 900 guests in attendance, including artists Jay-Z, Diddy, Ludacris, Master P, Gunna, Jermaine Dupri, Darryl "DMC" McDaniels, past Spirit of Life honorees Sir Lucian Grainge, Monte and Avery Lipman, Jon Platt, Sylvia Rhone, and music industry executives Julie Greenwald, Craig Kallman, Robert Kyncl, Coach K, Pierre "P" Thomas, Jody Gerson, Tom Corson, Aaron Bay-Schuck, Tunji Balogun and many more.
"Cancer doesn't take a break and neither does City of Hope and its Music, Film and Entertainment Industry group," Lamberg said. "Lyor Cohen and his team have done a phenomenal job on this year's Spirit of Life event, and for that we are so very grateful. He has led the charge and mission to further City of Hope's initiative when it comes to closing the gap for all underserved groups affected by health care inequities, as well as to continuing our frontline battle against cancer."
Founded more than a century ago to serve people who had trouble accessing high-quality, effective medical care, City of Hope has a strategic vision to expand access to optimal cancer care, push the envelope in the development of the next generation of cancer discovery, treatment and science, and expand efforts to rapidly translate research and discovery into the clinical care setting. Its national system of provider and research entities now serves approximately 131,000 patients each year across a network of locations in California, Arizona, Illinois and Georgia.
After celebratory remarks for the industry and Cohen, Stone introduced John Carpten, Ph.D., director of City of Hope's National Cancer Institute-designated comprehensive cancer center, director of Beckman Research Institute of City of Hope, chief scientific officer and the Irell & Manella Cancer Center Director's Distinguished Chair.
"Too many people needlessly suffer due to lack of access to the latest medical innovations and systemic barriers that prevent them from getting the best cancer care," Carpten said. "At City of Hope, we are working to carry out solutions that increase the likelihood that every person living with cancer — regardless of race or region — can get the best care."
A series of powerful, true stories as told by City of Hope patients and family members who have faced cancer head-on followed.
"There is nothing more precious than time," said Sean Frankenheimer, founder of The Difference Entertainment and co-president of City of Hope's Future Hope. "Few people understand this more than someone with a dim prognosis. City of Hope provides innovative cancer treatment and compassionate care that often results in the greatest gift of all — time."
"The thing about cancer is that it doesn't keep a timeline," said Katie Robinson, head of marketing at Elektra Entertainment and survivor of Hodgkin's lymphoma. "I wondered, 'How am I going to be there for my 3-year-old daughter?' But the fear disappeared for me the moment I walked into City of Hope. From the 24-hour, seven-days a week hotline to the patient liaison I could reach out to at any time, I was never alone."
"It's undeniable that my access to cancer screenings and treatment options saved my life, but sadly that's not the reality for far too many who share my background," said Jonathan Azu, founder and CEO of Culture Collective and MFEI board member. "This is precisely where City of Hope comes into play, showcasing their commitment to reducing disparities within the Black community."
Then, Letitia Frye, known as America's foremost "auctiontainer," took the stage to inspire guests to fund City of Hope's efforts to find solutions for health equity — so that anyone facing cancer has the opportunity to get top-tier care — no matter where they live or what they look like.
After a successful paddle-raise, the party got started with evening's host NORE, who then introduced a one-time-only edition of "DJ Cassidy's Pass The Mic Live!," featuring performances by over a dozen hip-hop and R&B icons spanning Cohen's career, previously mentioned.
Chuck D presented Cohen with City of Hope's Spirit of Life Award, restating the icon's role in the rise of hip-hop. Cohen is a fitting honoree to recognize this year, as the hip-hop community also reaches its 50th anniversary landmark.
In accepting the award, Cohen said, "Thank you, Chuck, and thank you to all my artists that without them there would be no me, or many of you for that matter. We came here tonight to eradicate cancer, but wouldn't it be incredible if we could also eradicate hate." Cohen went on to speak passionately about the events in Israel. He expressed gratitude for his family, for a lifetime of colleagues, including Julie Greenwald, Craig Kallman, Kevin Liles and Ahmet Ertugon, his colleagues at YouTube, including Susan Wojcicki, Neal Mohan and Mary Ellen Coe, for the great music and the great artists. Cohen's gratitude extended to City of Hope, adding, "To City of Hope and all the doctors, nurses and employees — let's end cancer, and on the way, let's make your magic more accessible to people of color by investing in ways to reach them. We CAN close the gap."
As City of Hope's most prestigious honor, The Spirit of Life Award is presented to industry leaders around the world who have made a significant commitment to improving the lives of others through the advancement of research and clinical innovation and the delivery of personalized, compassionate care. Honorees are selected for their notable contributions to the community in which they live and the profession in which they work.
To conclude the evening program, guests were surprised with a special performance by LL Cool J and DJ Jazzy Jeff.
Kid Capri, American DJ and rap artist, continued the celebration with an after-party set.