An online auction is giving you the chance to get your hands on a very special Lady Gaga Hello Kitty doll.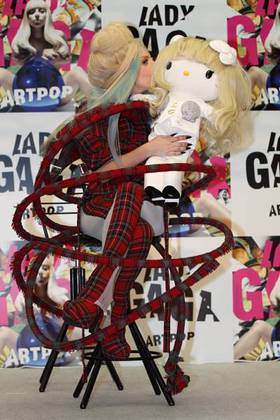 Only two of the dolls are reported to be in existence – one is owned by Lady Gaga herself. The doll going under the hammer is signed by the pop star.
In a statement, Tomodachi – who made the doll – said: "We feel deeply sorry for those people still suffering from the disaster that hit Japan on March 11, 2011. This "Japan Relief Charity Auctions" project is to help those who still needs help recovering from the disaster. Many companies and organizations are cooperating to this project by providing items for this auction. We really appreciate and looking forward for your cooperation on this project."
Proceeds from the auction will go to The Tomodachi Stella Adler Performing Arts Fellowship, which allows Japanese university students and young people the opportunity to pursue their artistic dreams by joining one year programs at specialized institutes in the United States in areas such as music, art, film, dance, song, theater, fashion, design, and digital media among others.
To access the auction, which runs until December 22, click here.