Slash has teamed up with charity to play on a new song for the holidays.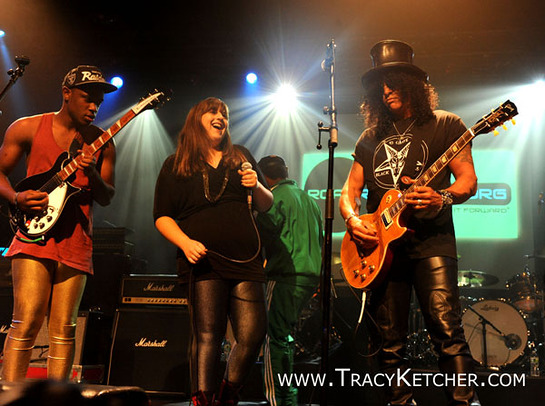 "Holidays: A Frightful Time," an original new holiday song, explores the emotions and fear young people confront during the holidays. The song was written and performed by participants in Road Recovery's RecoveryTrax program, in additional to a second song "Here We Go" which was recorded with guest lead guitarist Slash (ex-Guns n Roses, Velvet Revolver, and longtime supporter of Road Recovery).
The program helps young people battle addiction and co-occurring mental health disorders such as anxiety, depression, and diabetes through the collaborative process of presenting live-concert event and recording projects.
Road Recovery, a non-profit 501c established in New York City in 1998, has touched the lives of over 50,000 young people. The organization harnesses the influence of entertainment industry professionals who have confronted similar crises and now wish to share their experience, resources and knowledge. With support from the mental health field, Road Recovery provides hands-on mentorship training, educational/performance workshops, peer-support networking, and "all access" to real-life opportunities by collaborating with young people to create and present live-concert events and recording projects. The programs empower young people of all backgrounds to face their struggles and help them develop comprehensive life skills, guided by professionals and supported by a community of like-minded peers.
Jack Bookbinder, Co-Founder of Road Recovery commented "Road Recovery is proud to partner with Hotathon again to release creative projects such as a digital music download, created by kids in our non-profit programs and the celebrity supporters who care to help. These creative collaborations help us achieve our programmatic goals of greater awareness by reaching larger audiences, while also raising much needed funds for our charity through this heartfelt campaign."
"This is such an exciting Hotathon, as it features the creative output of participants in the RecoveryTrax program collaborating with a rock n roll legend Slash. The program addresses a critical and challenging time for these young people — when they are faced with the challenges of building a sober network — while navigating the challenges of everyday life," said Hotathon Founder, Mikal Celentano.
Supporting Road Recovery's mission, this campaign gives "fanthropists" an opportunity to help another 50,000 more young people. Purchase the songs today to 'Play It Forward' for Road Recovery. The song is available exclusively through Hotathon.com.
Source: PRWeb.com