He's won seven BAFTA Awards, five British Comedy Awards, three Golden Globe Awards, two Emmy Awards and a Rose d'Or and been nominated for a Screen Actors Guild Award, and now Ricky Gervais can add PETA's Person of the Year 2013 to his credentials.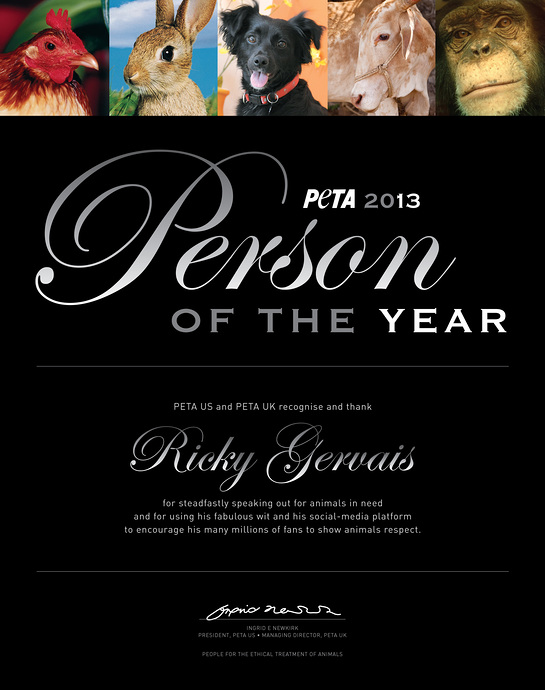 At a time when social media influences everything from general elections to popular music, Gervais keeps his 5.3 million Twitter followers laughing, shaking their fists and buzzing about animal abuse, such as Melissa Bachman's killing of a lion, while dishing out tips like this one about PETA's cruelty-free cosmetics campaign: "Dear intelligent people of the world, don't get shampoo in your eyes. It really stings. There. Done. Now f***ing stop torturing animals".
Gervais' tweets don't just take the Mickey but also offer animal-friendly solutions about everything from remembering the homeless-dog crisis ("When you're shopping, give a few quid to an animal home") to finding alternatives to animal research, even if tongue-in-cheek: "We should free laboratory animals and only test cosmetics on internet trolls. They'd get the attention they crave and they'd look nicer".
Gervais' social-media influence has earned him a top Klout score among comedians and netted him more than 65,000 favourites and 92,000 retweets for his tweets about animals in 2013. His other animal advocacy work includes appearing in this animated video against fur and exotic-animal skins, in which he supplies the voice for a rabbit, with rocker Pink in the role of the crocodile. Gervais also wrote to Fortnum & Mason's boss asking that they stop selling foie gras at the store.
"Ricky Gervais makes sure that animals have their say, tweet, growl or roar on Twitter", says PETA Managing Director Ingrid E Newkirk. "He finds humour in most things, but cruelty to animals isn't one of them. As he says himself, 'Animals are not here for us to do as we please with. We are not their superiors, we are their equals. We are their family. Be kind to them'."
More examples of Gervais' pro-animal tweets are below:
· "If you could bottle 'happy dog' it would cure everything. I love it when their whole body wags. Magical."
· "Freedom of speech, rationality, truth and honesty. This is my religion. Oh, and cats. & dogs. All animals. Some people. Alcohol is good too."
· "When xmas shopping please don't buy into cruelty. No real fur, no foie gras, & don't give anyone a Cliff Richard calendar. That's just nasty"
· "Mmmm..pistachios…my little vegan clams."
· "I reckon Zombies are grumpy all the time because they only eat red meat. They must be constipated for eternity."
· "Most people I've met who weren't kind to animals weren't kind to people either. Kindness is kindness. Simple as that."
· "As much as I love seeing heartless morons gored to death, I can't take the risk of 1 innocent animal being hurt for fun. #banbullfighting"
· "Whether you believe in evolution or magic, be nice to animals :)"
· "How can anyone abandon a beautifully loyal dog? It's not an accessory. It's your best f***ing friend. It makes me so sad & angry."