Michael Jordan recently added another impressive feat to his long list of accomplishments – he granted his 200th wish through Make-A-Wish. The hall of famer and six-time NBA champion is one of only a few celebrities to reach the 200 wish mark.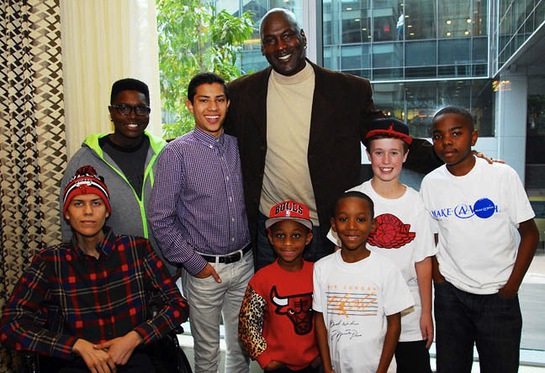 The iconic milestone was surpassed late last month when seven kids with life-threatening medical conditions and their families met Jordan in Charlotte, N.C. Jordan, Chairman and majority owner of the Charlotte Bobcats, spent time with the wish kids prior to the tip-off between the Bobcats and the Phoenix Suns. He made sure each wish family received his undivided attention during their one-on-one time with the superstar. Later that night, the wish kids were Jordan's guests of honor at the NBA game.
Michael Jordan's involvement with Make-A-Wish has spanned throughout the organizations existence. Jordan's legendary basketball skills in conjunction with the high quality wish experience he delivers has caused him to remain a popular wish request to this day. In addition to granting wishes, Jordan is a passionate fundraiser for Make-A-Wish. The wish-granting organization is one of a select number of charities to receive the proceeds from Jordan's highly successful, annual golf tournament, the Michael Jordan Celebrity Invitational.
"Michael Jordan is one of the all-time greatest athletes, but he is an even better person," said David Williams, president and CEO of Make-A-Wish America. "He has changed the lives of hundreds of wish kids and their families for the better, and for that, we are forever grateful."
In addition to reaching this milestone, Make-A-Wish recognized Jordan for his unwavering support for children with life-threatening medical conditions. Make-A-Wish bestowed Jordan with the distinguished title of Chief Wish Ambassador in 2008.