Jon Rose and friends including Hurley athletes Carissa Moore, Rob Machado, Conner Coffin, Bob Burnquist, Actress Rosario Dawson, and Chefs Alex Atala and Sam Talbot will travel to nations in need in an effort to bring 100,000 people clean-water access.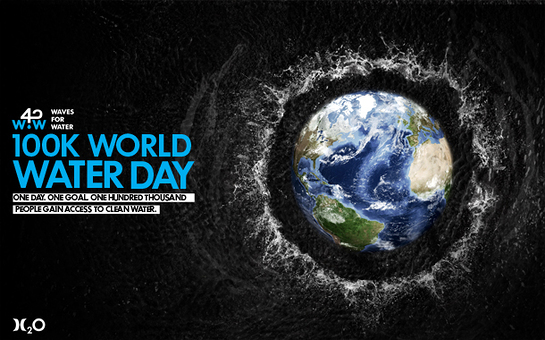 In correspondence with World Water Day 2014 (March 22), clothing company Hurley will be working with Waves For Water to coordinate one of the largest single-day water relief efforts in history. Five groups of Clean Water Couriers will lead missions to five different parts of the globe: Brazil, Haiti, Indonesia, Liberia and Nicaragua. Each team of key advocates will include Hurley Surfers and ambassadors to participate in the distribution of water filtration units. The teams will be bringing with them 1,000 water filters for a single-day activation (March 22, 2014), with capacity to provide clean-water access for 100,000 people.
"We typically work in a very lean and covert fashion to maximize our efficiency on the ground, but since this specific project is just as much about awareness as it is action," says Waves For Water Founder Jon Rose. "I'm thrilled to have the opportunity to bring some of our longtime friends and advocates – Carissa Moore, Rosario Dawson, Rob Machado, Alex Atala, and more – along for the ride."
The Clean Water Courier teams will be assembled as follows:
Team Brazil
Guga Ketzer – Loducca
Alex Atala – Brazilian Chef who runs the restaurant D.O.M.
Rob Machado – Hurley Brand Ambassador
Bob Burnquist – Hurley Brand Ambassador
Team Haiti
Jon Rose – Waves For Water Founder
Rosario Dawson – American Actress
Mikey DeTemple – Hurley Brand Ambassador
Fritz G Pierre-Louis – Waves For Water Ambassador
Team Nicaragua
Ben Edwards – Hurley VP of Global Outreach
Conner Coffin –Hurley Brand Ambassador
Eddie Breckenridge – Former Thrice Bass player, current Band Manager
Team Liberia
Jack Rose – Waves For Water Project Manager
Aamion Goodwin – Hurley Brand Ambassador
Sam Talbot – Celebrity Chef
Team Indonesia
Christian Troy – Waves For Water Executive Director
Carissa Moore – Two-time

ASP

Women's World Champion
Adrian Buchan – Hurley Brand Ambassador
Everyone can help these teams reach their fundraising goals by purchasing Hurley H2O limited edition t-shirts on www.hurley.com, or by donating directly to www.wavesforwater.org. To learn more about 100K World Water Day, please visit www.wavesforwater.org.