The Duke of Cambridge addressed a symposium of leading conservationists gathered together by his United For Wildlife umbrella organisation yesterday in support of ending the illegal wildlife trade which is threatening a number of endangered species.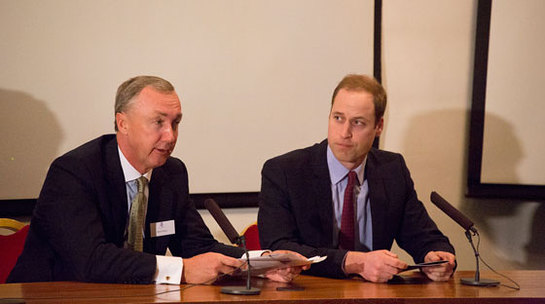 The Duke made a speech at a conference held at the National History Museum last night and today will join his father The Prince of Wales at an international summit which aims to address the threat to animals like tigers, elephants and rhinos.
Their Royal Highnesses have already released a video message calling on the world to turn its back on illegally traded animal parts like ivory and rhino horn.
The Duke told the symposium which met at the headquarters of one of its members the Zoological Society of London: "The Forces that are currently destroying some of the world's endangered species are sophisticated and powerful. But this week, we are seeing the creation of an equally powerful alliance, coming together to help fight them.
"The commitments set out today will begin to address the challenges of protection, enforcement and demand reduction. We will use our combined resources to ensure they succeed."
Will Travers, President of the Born Free Foundation founded by his parents the actors Bill Travers and Virginia McKenna, also attended the symposium.
Source: dukeandduchessofcambridge.org