Hilary Duff, new mother to 22-month-old son Luca, is volunteering her time to help the March Of Dimes raise funds to help give more babies a healthy start in life.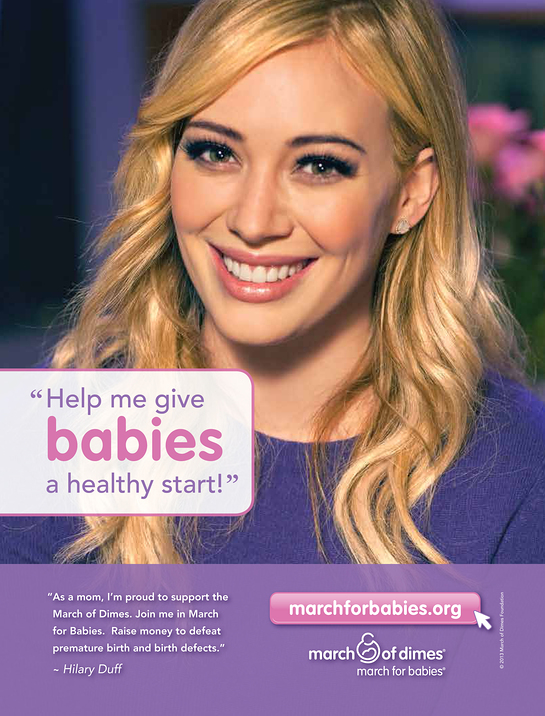 "As a mom, I'm proud to support the March of Dimes helping more women have full term pregnancies and healthy babies. That's why I walk in March for Babies," she says in a new public service advertisement. "The money we raise funds research and local programs that help babies overcome the challenges of premature birth and birth defects. Together we can help make healthier babies possible for thousands of families."
Ms. Duff plans to participate in the Los Angeles March for Babies Saturday, April 26. March for Babies will take place in nearly 700 communities in all 50 states, the District of Columbia, and Puerto Rico the last weekend in April. In the PSAs, Ms. Duff invites people to join her in supporting March for Babies by visiting marchforbabies.org and signing up to march for babies.
Ms. Duff is best known for her role in Disney Channel series Lizzie McGuire and its motion picture The Lizzie McGuire Movie. She also appeared in feature films including Agent Cody Banks, Cheaper by the Dozen, A Cinderella Story and Cheaper by the Dozen 2 and she has three platinum-selling albums.
The print magazine advertisement has been published in People and is expected to be included in several other national magazines. The television spot has begun airing in major markets nationwide.
The March of Dimes is the leading nonprofit organization for pregnancy and baby health. For more than 75 years, moms and babies have benefited from March of Dimes research, education, vaccines, and breakthroughs. Find out how you can help raise funds to prevent premature birth and birth defects by walking in March for Babies at marchforbabies.org. For the latest resources and information, visit marchofdimes.com or nacersano.org. Find them on Facebook and follow them on Twitter. The 2014 March for Babies is sponsored nationally by the March of Dimes number one corporate supporter Kmart, Macy's, Famous Footwear, Cigna, Sanofi Pasteur, Mission Pharmacal, United Airlines, and Actavis.
Source: Multivu.com