Online Poker site, 888poker.com and brand ambassador Shane Warne have teamed up for the first ever Shane Warne Golf and Poker Classic.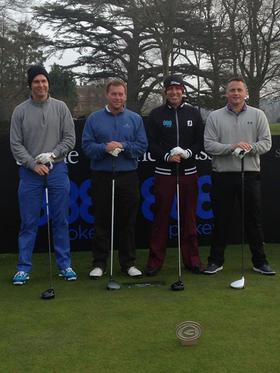 Held on Saturday March 8th, 100 keen golfers and more than 60 poker fans headed to the Grove Luxury Resort for a fantastic day of sport.
Kicking off the Verve Clicquot fuelled golf event was Shane Warne and his team of Warney's Warriors (Cricket icons Ian Ward, Michael Vaughan, and Darren Gough). That group was up against golfers from all over the UK, as well as being head to head against the other celebrity team of Kevin Pietersen, Shaun Udal, Ian Harvey and Jeremy Snape.
The day was gorgeous and all the players enjoyed the 18 holes! After a quick break, it was on to dinner and a charity auction for the Shane Warne Foundation, which raised over £25,000! Awards for the day's play were also given out, and it was a well-deserved victory for the host and his Warriors!
As the golf was finishing, it was time for the Poker! Shane Warne joined the 888poker Dinner to welcome everyone and make sure he got to meet each person and sign their 888 goodies and mini cricket bats! Then the group moved to the Grosvenor G Casino in Luton to sit down at the tables! All the celebrities joined in, with Shane tipping off the 888 players that while they might be Cricket legends, they were poker beginners! And with $100 bounties on their heads, they were in for some trouble. 888player Chuck Khuu took out two, while eventual runner-up Stephen Turk knocked out three! A shout out to Kevin Pietersen as well, for knocking out one of his fellow sportsmen!
As the drinks flowed and the night moved on, they made their way to the final table. Poker finalists were Dragos Laslo, Kevin Lanceley, Ritchie Gray, Robert Leng, Steve Dent, Mark Gray, Chris Lamb, James Grogan, and Stephen Turk. And the winner of the 888poker Shane Warne Poker Classic was Thomas Gill who took home a nice prize of £2780 ($4,625).
Then it was back to the hotel for a sleep in the hotel's stunning rooms before being stuffed silly at the Grove Resort's sumptuous breakfast buffet.
Source: PR Newswire