A familiar face in living rooms across the nation and beloved judge of one of America's most popular competition reality shows, Carrie Ann Inaba, has teamed up with Best Friends Animal Society in asking people to help save the dogs and cats in our nation's shelters.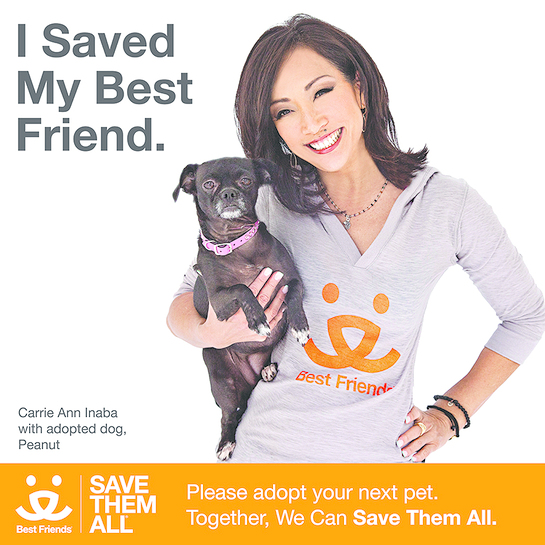 In addition to being a fair but no-nonsense judge on ABC's Emmy award-winning Dancing With The Stars, Inaba's choreography has been an integral part of some of the most popular shows in television history including American Idol and So You Think You Can Dance. Her acting credits include memorable cameo roles in two of the Austin Powers films. As a dancer, Inaba broke ground and racial stereotypes as one of In Living Color's original "FLY GIRLS."
The proud owner of three rescue dogs and four rescue cats, Inaba took her personal passion for animal welfare to heart and founded the Carrie Ann Inaba Animal Project (CAIAP) in 2012. The CAIAP supports the rescue, welfare and well-being of animals by funding and creating collaborative programs that reduce pet over-population, and promoting the importance of spay/neuter, animal rescue and pet adoption.


Inaba joins actor Danny Trejo and other celebrities who will be featured in Best Friends' photo campaign featuring celebrities posed with their personal rescued dogs and/or cats in support of the Save Them All call to action.
According to national statistics, each day more than 9,000 dogs and cats die in the nation's shelters. Best Friends has brought increased awareness to how people can get involved in the solution by adopting, and spaying/neutering their pets, donating, volunteering and sharing this message with their friends.
"I got involved with this campaign because adopting an animal is one of the most beautiful healing experiences you can have," Inaba said. "Not only do you help heal the wounds of an animal who has been discarded, lost or who never had a family before, but animals also heal you. All seven of my 'kids' are adopted — some rescued right off the streets, some from the shelter system where they would have been euthanized, and some from no kill sanctuaries. Each one has brought so much joy into my life and has taught me lessons I needed to learn about life and love. Adopting an animal is a beautiful thing."