Academy Award-nominated actress Viola Davis, together with The Safeway Foundation and the Entertainment Industry Foundation (EIF) today launched Hunger Is, a joint charitable program designed to raise awareness and funds to fight childhood hunger in the United States.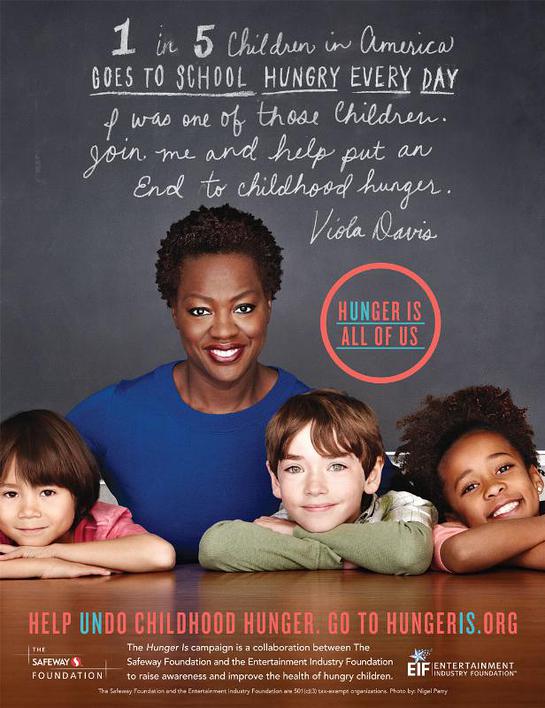 The year-round campaign encourages individuals and communities to get involved in solving a widespread problem that too often goes unnoticed.
"One in five children in America struggle with hunger – that's nearly seventeen million children. I was one of those children; I was the one in five," said Davis. "I am honored to join The Safeway Foundation and the Entertainment Industry Foundation to increase awareness and raise funds to help end childhood hunger."
Funds raised through the initiative will go toward programs focused on eradicating childhood hunger and improving health-related outcomes. During the inaugural year, breakfast programs will be the focus, giving children a healthy start to their day and the best chance to excel.
Research shows that children who eat breakfast have better school attendance and achieve higher math scores than children who lack adequate access to food.
"It is unacceptable that millions of children in this country go hungry each day. The good news is that we can make a difference in their lives and send them to class ready and able to learn," said Larree Renda, Safeway Inc. Executive Vice President and Chair of The Safeway Foundation.
Safeway shoppers will also have multiple opportunities to give during an in-store Childhood Hunger awareness fundraiser during the month of April at more than 1,300 Safeway stores across the United States.
"We are so grateful to Viola Davis for her profound generosity in sharing her personal story and lending her powerful voice to this campaign," said EIF President and CEO Lisa Paulsen. "Too many kids are not getting the nutrition they need to reach their full potential, and we're privileged to work with The Safeway Foundation to engage communities across the country in helping to change that."
More information about the issue is available at HungerIs.org, along with simple ways for individuals to donate.
Source: PR Newswire