Purina ONE is building on the feline phenomenon already popular in Europe and Asia to open the first ever Cat Cafe in America.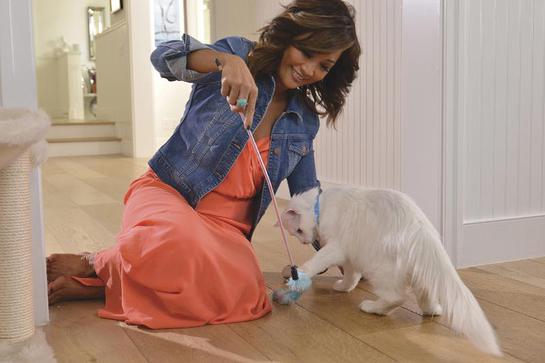 Patrons can sip "cat'achinos" while spending time with and learning about cats, cat health and Purina ONE's 28 Day Challenge. Purina ONE hopes this encourages conversation among cat owners and cat lovers alike. Carrie Ann Inaba, a champion for cats, judge on ABC's Dancing with the Stars and founder of The Carrie Ann Inaba Animal Project, has partnered with Purina ONE on this initiative to help improve the lives and well-being of cats everywhere.
Located in Manhattan's Bowery neighborhood, the Cat Cafe by Purina ONE will be open April 24 -27. Visitors can drop by for coffee, conversation and cat health education. Every day, the Cat Cafe by Purina ONE will feature different cat experts and interactive demonstrations to foster conversation and education so cat owners can gain valuable insights about their cat and cat health.
Inaba will be in New York City on April 23 and 24 to help open the Cat Cafe by Purina ONE.
The schedule and more information can be found at PurinaONE.com/CatCafe. Purina ONE has also partnered with North Shore Animal League America (NSALA) to provide companion cats to mingle amongst patrons at the Cat Cafe. These cats will also be adoptable, and Purina ONE and NSALA hope the Cat Cafe helps them find forever homes.
Cat lovers can sign up for the Purina ONE 28 Day Challenge to help see the difference ONE smart change can make in their cat's health. By switching their cat to Purina ONE dry formulas for 28 days, cat owners should see visible differences in their cat's health.
"I've seen remarkable changes in my cats since switching their food to Purina ONE," Inaba said. "My cat Mimi has a noticeably shinier and healthier looking coat, and Blizzard has a lot more energy. I had no idea the difference in the food I selected could make in both my cats' bodies and activity levels."
Complete with on-site, adoptable cats, the Cat Cafe by Purina ONE provides the perfect environment for a cat-centric conversation among friends to strengthen the connection between cats and owners everywhere.
"We hope our Cat Cafe is ONE small step toward a greater focus on cat health," said Brian Williams, brand manager for Purina ONE brand cat food. "Our goal for the Cat Cafe is to create a rich, interactive environment that empowers cat owners to learn more about their cat's health and nutritional needs. You can also sign up for the Purina ONE 28 Day Challenge while you're there. Stop by, we'll save you a seat."
Source: PR Newswire