Thursday April 24th marks World Day for Animals in Laboratories; an international event to commemorate the millions of animals who suffer and die in laboratories around the world.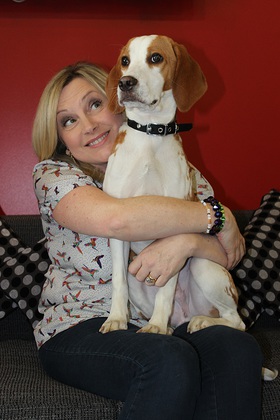 As part of the BUAV Our Best Friends campaign to end the use of cats and dogs in experiments, the organisation is using this important day to highlight a grim secret of the research industry – the routine killing of animals 'no longer required' by laboratories. The BUAV believes this is unacceptable and is calling for their mandatory release where possible. A national petition has been started in support of the campaign.
The issue has come to light following BUAV undercover investigations that have revealed laboratories and breeding centres are routinely killing animals who are no longer required. Some animals may have been used in experiments; others bred for research but not used and considered 'surplus to requirements.' Yet, rather than release or find homes for these animals outside the laboratory, they are being denied the opportunity of freedom and simply killed.
During the BUAV's most recent investigation at MSD Animal Health, it was discovered that healthy female adult beagles were being routinely killed – once their puppies had been taken away from them – as well as beagle puppies who were no longer required and could have been released at the end of the experiments. Thanks to the BUAV, three dogs were saved from death after a BUAV investigator was able to persuade MSD Animal Health to release them. They now have loving homes and are enjoying their new lives.
Journalist and animal advocate, Wendy Turner-Webster, met with the BUAV and Oliver, a five month old puppy who was released from MSD Animal Health, and is echoing the BUAV's call for a change in legislation.
Wendy said: "Oliver is a beautiful, healthy and vibrant dog and it is devastating to think that his mother and six other siblings were all killed. I join the BUAV call to stop the killing of those animals in laboratories who could be released into secure and loving homes. I encourage others to find out more and support the BUAV campaign on this World Day for Animals in Laboratories."
Sarah Kite, Director of Special Projects stated: "Although the three beagles we rescued are affected by their institutionalisation in the laboratory, they are learning quickly how enjoyable life can be. All three epitomise how easily many more of these dogs could have been released into loving homes, if only MSD Animal Health had made the effort. It is shameful and we call for an immediate change in policy from the Home Office to enable this to happen. "
The BUAV launched its Our Best Friends campaign in July 2013 to end the use of cats and dogs in research and the campaign has received widespread support from many celebrities including Paul O'Grady, Ricky Gervais, Miranda Richardson, Jilly Cooper, Chris Packham, Kirsty Gallacher and Greg Rutherford among others.