Big Bang Theory actor Kunal Nayyar is the second of the cast from the award winning show to team up with Cruelty Free International to campaign for a United States ban on animal tests for cosmetics.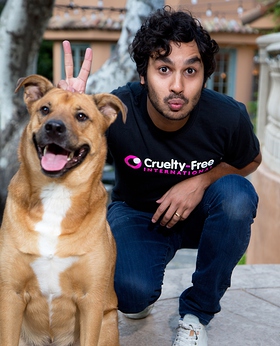 Kunal said: "I am delighted to join the Cruelty Free International campaign to end the use of animals for cosmetics tests around the world. I am proud that in England, where I was born, and in India, where I grew up and have lived for many years, animal testing for cosmetics has already been banned. The U.S now has the opportunity to follow suit and I urge everyone to get behind the Humane Cosmetics Act. "
Kunal, who plays Raj Koothrappali on the hit show 'The Big Bang Theory', joins other celebrities, such as 'Amy' from the show, Mayim Bialik, in addition to Sir Paul McCartney, Ricky Gervais, Norman Reedus, Peter Dinklage and Ashley Bell together with cruelty-free cosmetics companies and Cruelty Free International to put the issue of cosmetics testing on animals at the forefront for consumers and policy makers around the world.
The call to the U.S government follows cosmetics animal testing bans in the European Union, India and Israel and China's recent announcement of acceptance of non-animal testing from June 2014. Yet, despite, the availability of humane non-animal tests, the US continues to allow cruel animal tests for make-up, shampoo, toothpaste and other cosmetics.
Cruelty Free International North America Campaign Manager, Monica Engebretson, stated: The recent introduction of the federal Humane Cosmetics Act which now has 30 co-sponsors, and the bipartisan support in the California Senate for the Cruelty Free Cosmetics Resolution, shows that legislators are listening to the American public which, polls show, largely support ending cosmetics testing on animals. Now more than ever, it is time for US voters to make their voices heard."
Countless animals suffer each year in unnecessary outdated and cruel tests for the cosmetics we use. Visit www.crueltyfreeinternational.org to see what you can do to help animals.