Comedians Skyler Stone, Greg Fitzsimmons and Wayne Federman, pop/rock group Magnolia Memoir, singer John Fiore, saxophonist Michael Lington, actor James Kyson and more gathered last week in support of The California Fire Foundation's first L.A. benefit.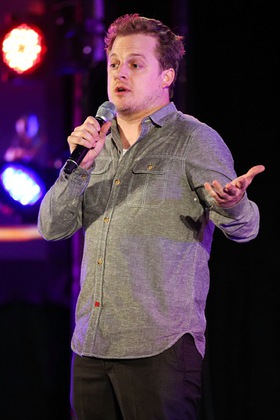 The California Fire Foundation, a non-profit organization which provides emotional and financial assistance to families of fallen firefighters, firefighters and the communities they protect hosted its Inaugural Los Angeles Gala on Thursday May 15th at the Sheraton Universal Hotel.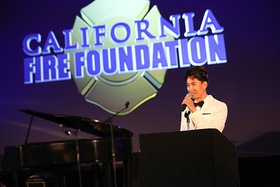 Festivities kicked off with an outdoor cocktail party by L.A. based alternative, pop, rock group Magnolia Memoir. Attendees enjoyed the beautiful weather and music in the garden setting, sipping on wine and cocktails while catching up with their fellow firefighters, who came together from across the state in honor of this amazing organization.
Following the cocktail reception, guests, including approximately 300 firemen and their VIP and community supporters, came together for a sit down dinner and entertainment. Actor/Comedian Skyler Stone Emceed the night, welcoming the Chair of the California Fire Foundation, Lou Paulson, Sacramento Metro Fire District Battalion Chief Maurice 'Mo' Johnson and daughter of fallen fireman, Nicole Ann Herman, recipient of the organization's Daniel A. Terry Scholarship.
Keeping the atmosphere light and the vibe festive, Stone welcomed comedian Greg Fitzsimmons (a regular guest on The Howard Stern Show, Chelsea Lately and The Adam Carolla Show) and comedian/actor Wayne Federman (best known for supporting roles in The 40 –Year Old Virgin, Step Brothers, 50 First Dates and head monologue writer for Late Night with Jimmy Fallon), to the stage to provide non-stop laughter with their hilarious sets. Singer/songwriter John Fiore also honored the firemen with a beautiful rendition of "What a Wonderful World," followed by a riveting contemporary musical performance by saxophonist Michael Lington.