What brings fashion mogul Kate Spade, Nancy Novogrod (Editor in Chief of Travel + Leisure Magazine), and Pilar Guzman (Editor In Chief of Conde Nast Traveler) and many more of New York's top crowd together under one roof? Child abuse and The New York Center for Children.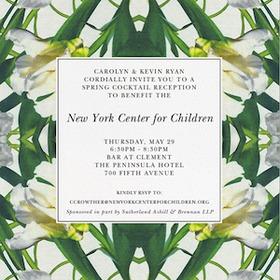 1 in 5 children will experience abuse the age of 18, and The New York Center For Children is one of the only non-profit organizations in the City to offer free therapy to victims of child abuse.
On May 29, from 6:30 to 8:30 PM at the Peninsula Hotel, New York's top business and editorial figures will come together to support the 19-year old Center, which continues to strive as an unparalleled provider of free post-abuse treatments. In New York, physical, emotional and sexual cases of child abuse hit the media daily.
Find out more about the event here.