In an effort to educate Americans about how to prevent accidental wildfires, Disney is joining the Ad Council, the U.S. Forest Service and the National Association of State Foresters (NASF) to launch a new series of public service advertisements (PSAs) featuring scenes and characters from Disneytoon Studios' upcoming animated film "Planes: Fire & Rescue."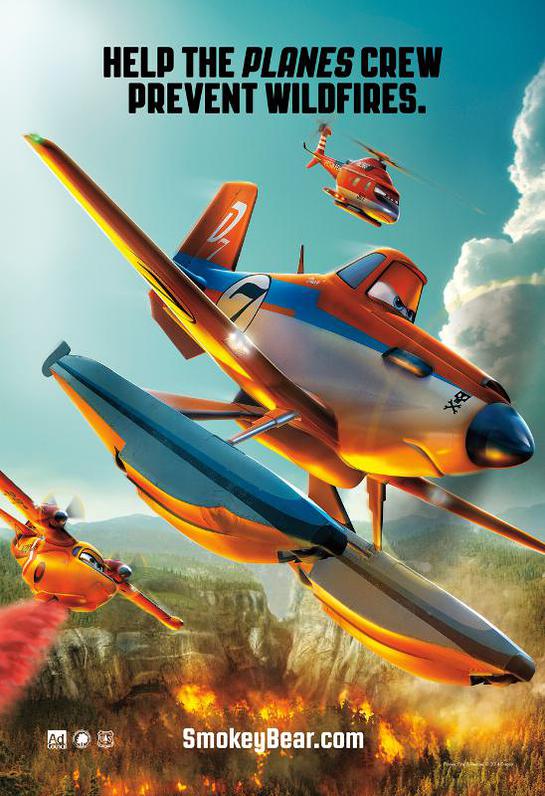 The PSAs are an extension of the Wildfire Prevention PSA campaign, featuring the iconic Smokey Bear, who celebrates his 70th birthday this summer.
According to the U.S. Forest Service, over the past 13 years, an annual average of 6.7 million acres have been burned by wildfire. The most common sources of human-caused wildfires are campfires left unattended, debris burning on windy days, careless discarding of smoking materials and BBQ coals, and operating equipment without spark arrestors. Nine out of ten wildfires nationwide are caused by humans, yet many can be prevented by taking simple steps to properly put out a campfire.
"When we decided to make 'Planes: Fire & Rescue,' our team of filmmakers made several research trips to meet the brave men and women whose job it is to fight wildfires," says Bobs Gannaway, "Planes: Fire & Rescue" director. "Those research trips changed us and forever impressed upon us the importance of wildfire prevention. To have our character, Dusty, take part in the legendary Smokey Bear's campaign to prevent wildfires and encourage safe outdoor fire practices is one of the highest honors we could have."
"Planes: Fire & Rescue" is a new comedy-adventure about second chances, featuring a dynamic crew of elite firefighting aircraft devoted to protecting historic Piston Peak National Park from raging wildfire. When world famous air racer Dusty (voice of Dane Cook) learns that his engine is damaged and he may never race again, he must shift gears and is launched into the world of aerial firefighting. Dusty joins forces with veteran fire-and-rescue helicopter Blade Ranger (voice of Ed Harris) and his courageous team, including spirited air tanker Dipper (voice of Julie Bowen), heavy-lift helicopter Windlifter (voice of Wes Studi), ex-military transport Cabbie (voice of Captain Dale Dye) and a lively bunch of brave all-terrain vehicles known as The Smokejumpers. Together, the fearless team battles a massive wildfire and Dusty learns what it takes to become a true hero. Directed by Bobs Gannaway ("Secret of the Wings") and produced by Ferrell Barron ("The Fox and the Hound 2"), "Planes: Fire & Rescue" hits theaters in 3D on July 18, 2014.
Created pro bono by Disney, the new English and Spanish television, out of home, digital and radio PSAs feature leading characters from the film, including air racer-turned-fire-fighting plane Dusty, spirited air tanker Dipper, veteran fire-and-rescue helicopter Blade Ranger and loving tourists Harvey and Winnie. The PSAs encourage audiences to be "Smokey's Wingman" and do their part in preventing wildfires. The ads teach audiences the proper steps of extinguishing a campfire: drown the fire, stir it, drown it again and feel that the fire is out cold.
"We are excited to have characters of 'Planes: Fire & Rescue' serve as ambassadors of Smokey's wildfire prevention message," said Forest Service Chief Tom Tidwell. "In teaching people campfire safety tips, these PSAs will further the message of wildfire prevention to a broad audience."
The PSAs encourage audiences to visit www.SmokeyBear.com for more safety tips and information on Smokey Bear and the Wildfire Prevention campaign. The website also features an interactive real-time wildfire map and a gallery of historic Smokey Bear ads over the last seven decades. Smokey Bear has an active social media presence, with more than 190,000 fans on Facebook, over 23,000 followers on Twitter and over 689,000 total video views on YouTube.
"These PSAs are a wonderful extension of our longest running campaign and one of the most successful public service campaigns in history," said Peggy Conlon, president and CEO of the Ad Council. "I'm confident that both the media and the public will embrace these ads and help continue to spread Smokey's important wildfire prevention message."
Announced last week, the campaign has also created new PSAs to celebrate Smokey's 70th birthday, which is August 9th. First introduced in 1944, Smokey Bear has become the recognized symbol of wildfire prevention across America. Smokey Bear's message, "Only You Can Prevent Wildfires," is known by seven out of ten adults. The Wildfire Prevention campaign is the longest-running PSA campaign in our nation's history.
The PSAs have been distributed to more than 33,000 outlets nationwide and, per the Ad Council's model, all of the PSAs will air in advertising time and space donated by the media industry. Since 1980, media outlets have donated more than $1.4 billion in time and space for the campaign.
Source: PR Newswire