Brad Paisley joined President Obama for a surprise trip to Afghanistan in the weekend to thank American troops and civilians stationed at Bagram Air Base for their service.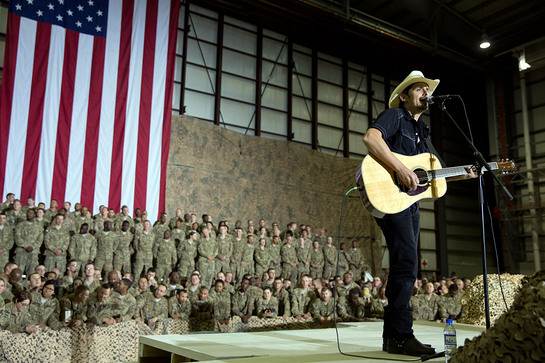 Brad played an hour-long acoustic set for the 3000 people at Bagram, before President Obama gave his address to the troops.
"Tomorrow is Memorial Day," said Obama. "At bases here in Afghanistan and towns across America, we will pause and we'll pay tribute to all those who've laid down their lives for our freedom. And that includes nearly 2,200 American patriots who made the ultimate sacrifice, that last, full measure of devotion, right here in Afghanistan. I know you've stood in front of those battle crosses. I know many of you carry the memories of your fallen comrades in your heart today. We will honor every single one of them — not just tomorrow, but forever.
"I thank you as your Commander-in-Chief because you inspire me. Your willingness to serve, to step forward at a time of war, and say 'send me,' is the reason the United States stays strong and free. Of all the honors that I have serving as President, nothing matches serving as your Commander-in-Chief."
Read the full speech here.