Actress Vanessa Marano has teamed up with Cruelty Free International to campaign for cruelty free cosmetics in the United States.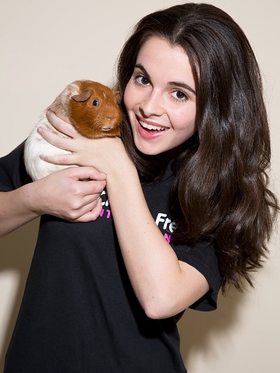 Vanessa Marano stated: "I am proud to join Cruelty Free International in urging the United States to end cosmetics testing on animals. Their goal is to encourage compassionate consumers to choose from certified cruelty free brands in order to help save animals from cruel and unnecessary tests. Each and every conscious shift to cruelty free products makes a huge difference."
Despite the fact that modern alternatives to animal testing are increasingly less expensive, faster, and more accurate at predicting human reactions than the antiquated animal tests they replace, there is no national law in place to limit animal testing for cosmetics in the United States. H.R. 4148, the Humane Cosmetics Act introduced by Representative Jim Moran, D-VA now has bipartisan support and several co-sponsors. The phase out of the testing and sale of animal-tested cosmetics in the United States, will match progress made in other countries including the European Union, Norway, Israel, and India.
The introduction of this ground-breaking bill is a reflection of the growing global concern and interest in this issue. Likewise the introduction of SJR 22 the Cruelty Free Cosmetics resolution in California introduced by state Senator Marty Block (D-San Diego) reflects the interests of US consumers who, multiple polls show, support ending cosmetic testing on animals.


Vanessa adds, "As a California native I am proud that our state has been a national leader in encouraging the use of modern non-animal tests for cosmetics. There is no reason that rabbits, guinea pigs and other animals need to suffer for the sake of beauty."
With SRJ 22 California can continue to lead by sending a strong message to Congress and the President that it is time to modernize US cosmetics industry regulation to match consumer expectation and international progress for safe and humane cosmetics.
Cruelty Free International, CEO, Michelle Thew, said: "We are thrilled to have Vanessa Marano supporting our US campaign. She is a wonderful compassionate role model for young women everywhere."
Vanessa, who plays Bay Kennish on the ABC hit show 'Switched at Birth', joins Mayim Bialik, Norman Reedus, Peter Dinklage, Ricky Gervais and Ashley Bell to put the issue of cosmetics testing on animals at the forefront for consumers and policy makers around the world.
Countless animals suffer each year in unnecessary outdated and cruel tests for the cosmetics we use. Visit www.crueltyfreeinternational.org to see what you can do to help animals.