Hard Rock International has partnered with international superstar Rihanna on limited-edition merchandise.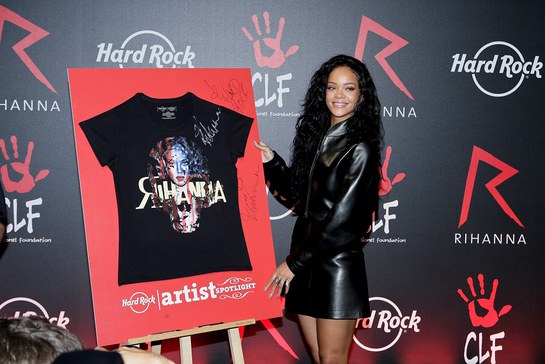 As part of the partnership, the singer revealed a shirt featuring an original design and artwork as part of Hard Rock's Artist Spotlight Series. Hard Rock also announced that it was adding several of Rihanna's personal items to Hard Rock's expansive memorabilia collection. True to the brand's "Love All – Serve All" motto, Hard Rock is celebrating the partnership with a donation to Rihanna's charity, The Clara Lionel Foundation.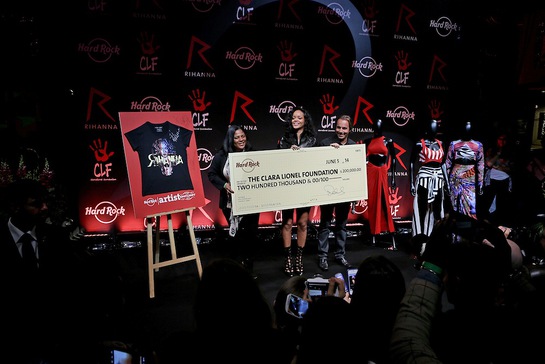 "This charity is very near and dear to my heart and I'm proud to announce Hard Rock's donation of $200,000 to The Clara Lionel Foundation, as well as showcase my shirt and spotlight merchandise," said Rihanna. "I'm honored to join some of the biggest names in music who have been celebrated with shirt designs as part of Hard Rock's Spotlight Series."
Rihanna delivered items from her personal closet to Hard Rock during an exclusive appearance at Hard Rock Cafe Paris where she announced the latest news about The Clara Lionel Foundation. To commemorate the partnership for Hard Rock's Artist Spotlight program and to honor Rihanna's generous and ongoing commitment to her country and those in need, Hard Rock's donation to The Clara Lionel Foundation will support the organization's efforts to improve healthcare in Barbados and support non-profit organizations that address the needs of youth globally in the areas of health, education, arts and culture.
Among the new items added to Hard Rock's permanent collection are a pink Swarovski crystal bodysuit, a custom floral dress and vinyl bodysuit worn during Rihanna's 2010-2011 "Last Girl on Earth Tour"; the denim shirt and black shorts Rihanna wore for her 2011 V Festival performance; the chain print jumpsuit worn at the 2012 Kollen Festival and the red gown Rihanna wore during the "Diamonds World Tour" in 2013.
Hard Rock's Rihanna Artist Spotlight shirts are now available online at www.hardrock.com and at select Hard Rock Cafe locations. The limited-edition black, unisex shirt features a striking black and white photo of Rihanna and her signature inside of a skull with an American flag pattern as the background. The back of the shirt will bear her signature and the Rihanna "R" along with the Hard Rock Cafe logo and city drop. The short-sleeve, black shirt was designed exclusively for Rihanna and Hard Rock, by Kiyondra Talley and is available in sizes S-XL ($26 USD).
"We are honored to partner with Rihanna for Hard Rock's acclaimed Artist Spotlight initiative," said Keely Wade, Head of Philanthropy, Hard Rock International. "As a dynamic singer and an international icon, Rihanna is a star in the truest sense. She will forever be a part of music history and we look forward to continuing our relationship with Rihanna and support of The Clara Lionel Foundation. We are also extremely excited to showcase items from Rihanna's coveted wardrobe in various Hard Rock locations and we thank her for agreeing to add them to our memorabilia collection."